The year has passed quickly. Year 2017 for SBT Localization appeared rather dynamic, and in general there were lots of changes…
Things would go quite poorly at the beginning. I must say that due to different circumstances, the number and composition of our team of volunteer translators varies from time to time, someone leaves and someone comes. Then, however, the leadership's enthusiasm was completely exhausted and it seemed that the team came to its end. But… You can't just take it and dismiss the team after 5 years of hard work. Well, we patched the holes in our yacht and kept going.

As for games localization requests, we had something like this, unfortunately:
However, soon it changed a little, since nothing can stand in front of persistence. Our team picked up almost every project they could and even took part in the open fan localization of Day of Infamy and Insurgency.
And here are our own work:
We also translated into English a secret project with which we may again meet in 2018.
Not everything went smooth, definitely. Our translation of The Colour of Magic by Terry Pratchett had to go to open share at toloka in April. However, the work is quite decent and does not yield to the official translation that came out last autumn.
The year was generally positive, we have gained a lot of new experiences, Those periods were marked with memes and comics on the pages of SBT Localization in social networks: about strict game developers, about translation proccess, about funny situations and so on.

Now, SBT Localization team works on:
Besides, there's another secret project being at editing stage, as well as a journalistic book about Bitcoin, and fairy tales by George McDonald. More on our current affairs we'll tell in the next report in a few days.
In total, about 714,000 words have been translated. This is twice as much as last year. About 276,000 words were edited – 1.5 times more than last year. As a reward for taking part in volunteer projects, the most active members have got over UAH 9000. Certainly, everyone worked as much as possible and everyone is worthy of gratitude for his work, however, the most significant for the year were: Oleksandr Lukianov, Oleksii "Stravenger" Ivanov, Olha Khmelnytska, Sofia Shul, Yurii "Shahor" Bisyk, Andrii Melnyk, Oleh "OnaHe", Rostyslav "Rusty", and Verminko".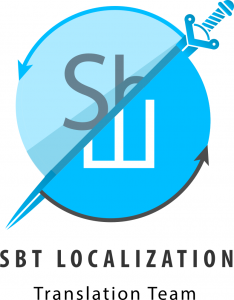 A lot of interesting things have happened this year. In September, the team gathered at ShkiakCon, where we held a small presentation and had a great talk. In the same month, SBT Localization launched their own website, with the great help of Ivan Yankovy. For the complete set Andrii Boichuk has made a new logo.
Our activists attended various events dedicated to the gaming industry, in particular Games Gathering, started new acquaintances and searched for new projects. Special thanks are given to Oleksii Ivanov and Olha Khmelnytska, who represented SBT Localization at every occasion, and to Yurii Bisyk who gave an interview on behalf of our team. Great thanks also to Oleh "OnaHe", "Verminko", Oleksandr Lukianov, Oleksii Ivanov, and Maksym Duvanov for their indifference to Ukrainian localization and the tireless search for new projects.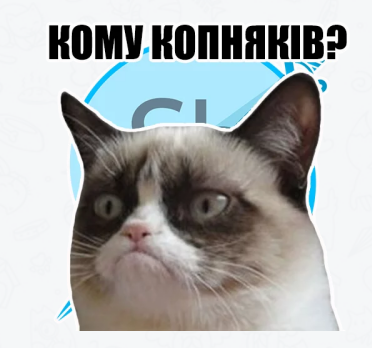 In Telegram, there appeared stickers devoted to SBT Localization. They are made by Maksym Duvanov. By the way, Maksym is also the author of Ukrainian language tips ("Boo teaches") and English (phraseologisms "M'Aiq knows much") that have an educational purpose.
And of course, SBT Localization should say great and sincere thanks to those people who, during the year, gave their support to the team not only with words but also with their money. These people are Ihor Solodrai, Ivan Yankovy, Ihor Tarasenko, Oleksii Ivanov, Olha Khmelnytska, and Nazar Harbuziak.
HAPPY NEW YEAR!
WISH YOU GOOD HEALTH, LOVE AND PEACE.
MAY ALL YOUR DREAMS COME TRUE.