Games Gathering
On December 9-10, in Kyiv, Games Gathering was held – an international congress of game developers and all interested people. At this event, one could attend specialists' lectures on different fields: art, gamedev, prod, sound. And to play their products. By the way, this is a good opportunity to look for specialists for jobs.
SBT Localization team members, representatives of the Kyiv branch mainly, also visited this event. It was pretty nice to know that Шлякбитраф/SBT Localization is no longer an empty sound for people, and some (representatives of 4A Games, in particular) even recognized us. ?
Oleksii Ivanov, an editor and an activist to our team, shared his impressions from Games Gathering on Facebook just before:
"Games Gathering 2017 is over now. I truly appreciate each of 18 hours being there, 10 hours as a volunteer, and 8 more as a visitor next day. It's nice to see the great amount of people, for whom the world of games is their life, and so they develop it as much as they can. Though SBT Localization team isn't well-known yet, many have already heard about our work. Slowly, but confident this train is moving ahead."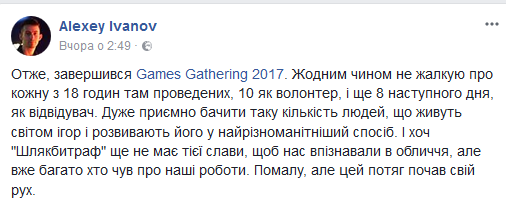 Talking about everything at Games gathering could take days, so we asked our fellow colleagues who had visited the event to describe their brightest impressions.
Oleksandr Lukianov: "The organization is very cool. I think everything was at the highest level. People there have come mostly for the sake of the lecturers. I visited two lectures on art. The first was about drawing in VR, and the second on the development of drawing skills. I didn't manage to see or try everything, but I really liked Drunk or Dead."
Anastasia Lelik: "Virtual reality is very cool. At the end of the first day, Oleksii and I went exploring a bit. In general, there were lots of games one could play. Unfortunately, I didn't manage to attend any lecture."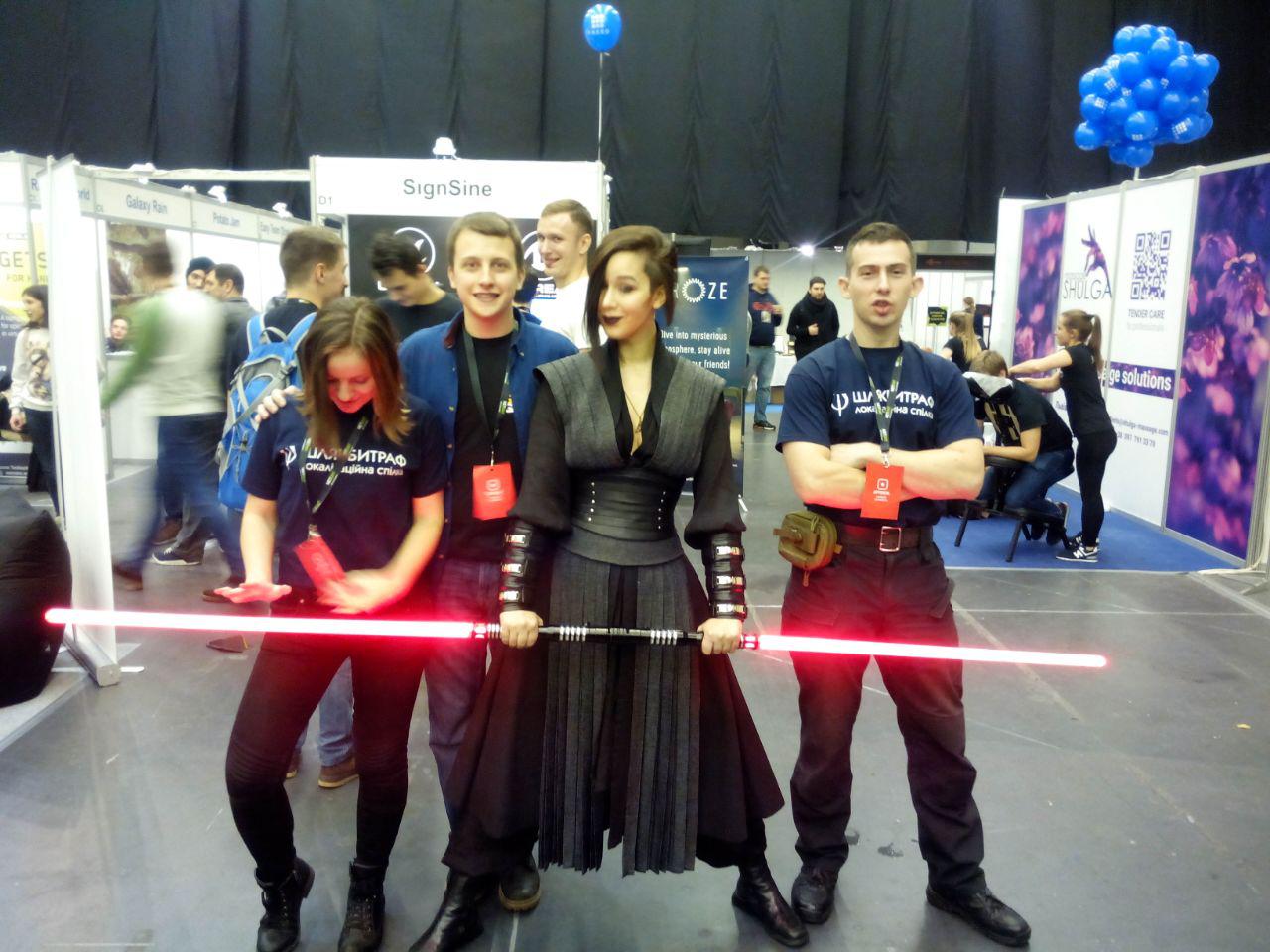 Oleksii Ivanov: "There was a good lecture from an artist from CD Projekt. Olha and I didn't win Sega Mega Drive, but we played Golden Axle 3 on it about a half an hour".
Olha Khmelnytska: "An incredible event! Incredible people! It was a truly large conference. Our team has got a fresh energy charge, and has become a little more united. It was very nice to be with those who are usually far away. Now, with calm souls and enthusiasm we can get back to translations. ?»
In a word, everyone is delighted and is looking forward to the next opportunity to attend such a congress. In addition, SBT Localization team is invited to Odesa to a spring congress of indie-developers.

SBT-Kyiv Gathering
On December 9th, the Kyiv branch of SBT Localization team made its own meeting of those who still had some stamina after the Games Gathering conference or just found the time to come. This time, there weren't any presentations, just a little talking and game fighting in the Xbox hall.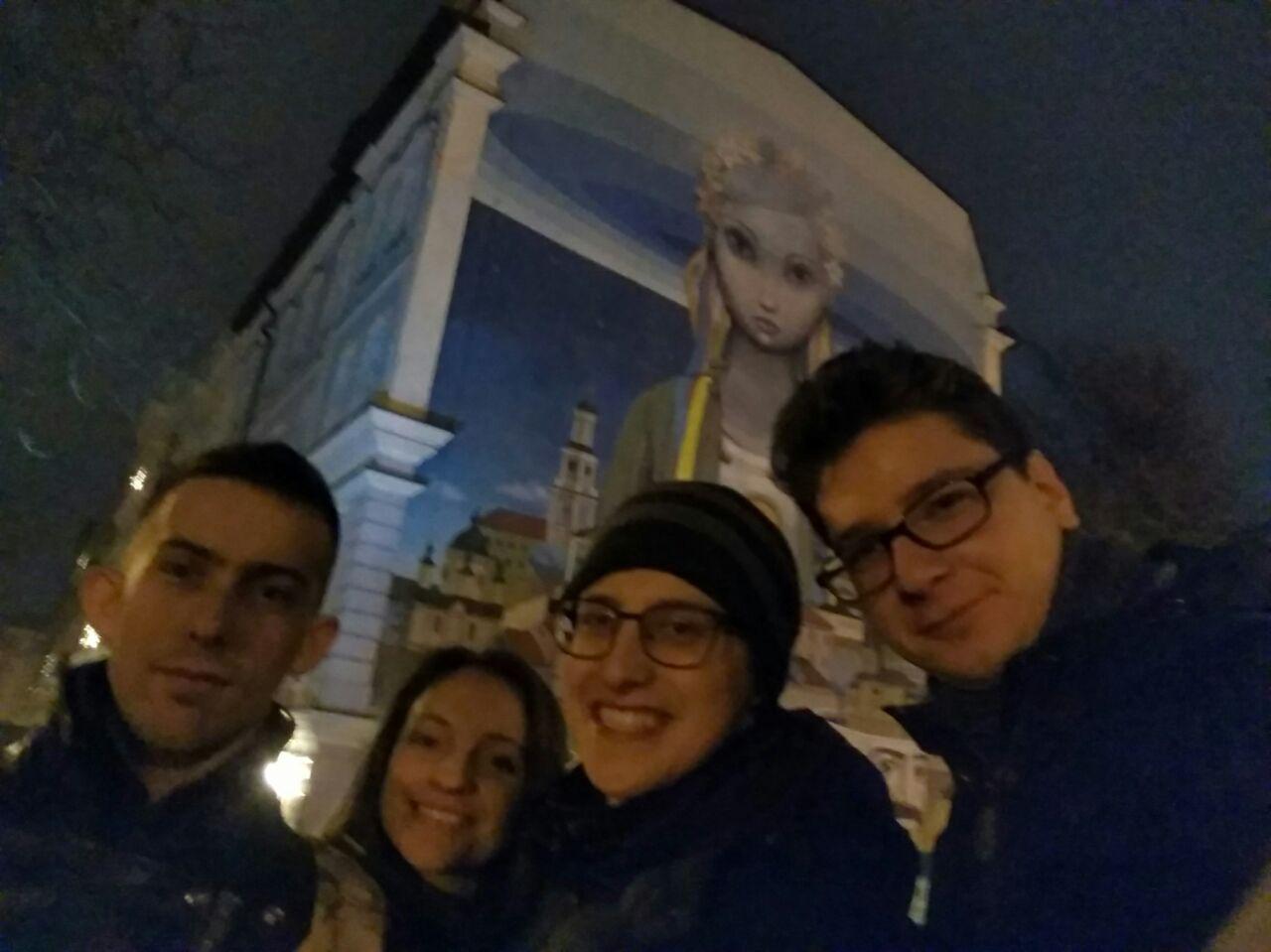 To summarize everything that was said above, it seems the words of Andrii Pekar, who initiated the meeting of SBT Localization, suit perfectly: "All of us are different, but we are united by the love of games and the desire to localize them in Ukrainian language. To the common cause, each of us brings things that are best for him, and together we can do more than each one of us individually".