Greetings dears!
It is high time we talked about big picture stuff of SBT Localization's work during the past months. Despite we have a sheer hell in SBT Localization, there is no point in kicking and screaming. What else could be said: besides having some positive moments, we faced some disappointments as well. The latter upset, whereas the former can be compared to the second wind and we move forward.
Ukrainian Localization Wins!
The Stanley Parable: Dubbing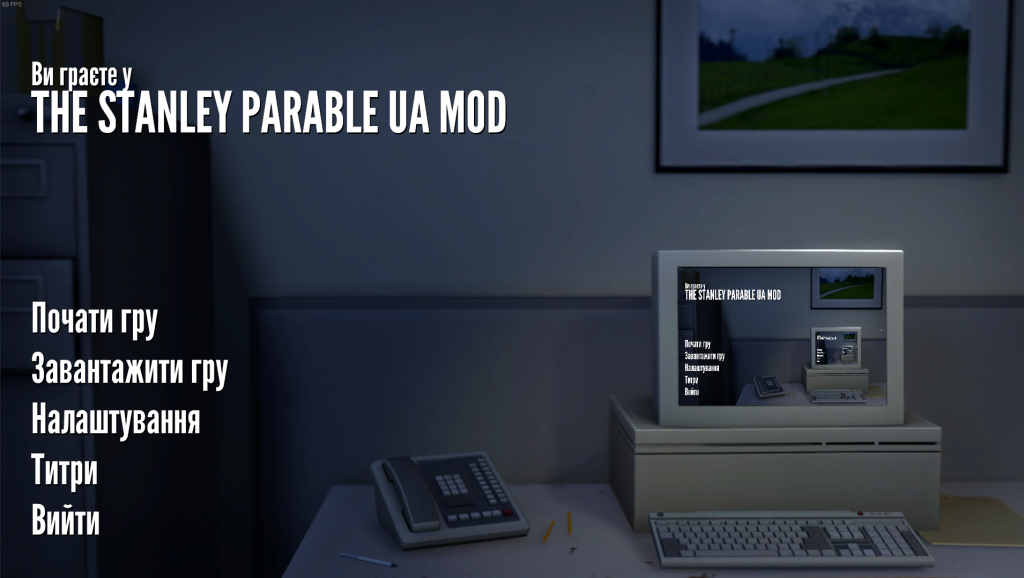 Finally, The Stanley Parable is available not only with Ukrainian text but also with Ukrainian dubbing! Unfortunately, it is not officially added yet, but you can download and add it on your own. We wish you to have the pleasure of playing with the narrator's voice of Yevhen Malukha. Special thanks go to Ivan Yankovyi for the help in this adventure.
The Art of Death Stranding
MAL'OPUS published Art of Death Stranding in Ukrainian in February. Art of Death Stranding is the artbook, where hundreds of concept-arts of characters, equipment, locations and creatures that could be found in Death Stranding, as well as not used and former pictures, are gathered.
You can buy the book online here. Have you already purchased Art of Death Stranding? What are your impressions from the book itself and the translation?
Ukrainian Localization in Progress
Kingdom Come: Deliverance
It seems the text of the main game Kingdom Come: Deliverance is a tad bigger than we expected. In those hundreds of files, there are more than 600k words since we have crossed the line "600 000" and have already 110% yet around 60k words left. Mainly texts with various occasional meetings, situations, cutscenes, and other short phrases left.
Nonetheless, a lot of activity is down here, the most attention is concentrated on this project. We kindly remind it is a voluntary project and the time devoted to it is the leisure time of our translators. The most active of them and the editors receive only modest fees from our donators on Patreon.
Last but not least, here we answer the numerous questions asked: 1) it is an official localization; 2) Microsoft Windows localization – on Steam and other services.; 3) Theoretically, on PS as well yet the developers introduce changes from time to time, so let's hope for the best.
The most active participants: Andrii Kozhushko, Tetiana Cherednychok, Iryna Makovska, Oleksandr Lukianov.
The short video overview of the future Ukrainian localization Kingdom Come: Deliverance was made by Yura Dragon. It is available on our YouTube channel. Please pay attention to the fact it is a "technical" text and some changes will be made.
Except for the main game text, there are around 200k words of DLC text, so if you of the opinion that you have a decent level of both English and Ukrainian, feel free to join. Contact us either on Facebook or Discord. Another option is to fill in the contact form on the site.
Baldur's Gate II: Enhanced Edition
A little less work was done on Baldur's Gate 2 due to the higher priority of Kingdom Come: Deliverance. However, there is some progress and whether taking into account bare figures – we have 44,66% at the moment.
Making some rough calculations, we have translated more than half a million words (535 000).
The most active participants: Sofia Shul, Yuliia Shchyrba.
If you consider our progress to be a rather slow one, feel free to join us to speed it up. Contact us either on Facebook or Discord. Another option is to fill in the contact form on the site.
Outsider
SBT Localization continues the translation of webcomic Outsider written by Jim Francis. 118 pages are already translated. If you are in favor of space adventures and extraterrestrial civilizations, this comic will be the right choice. All pages in Ukrainian are available on the project's page.
Furthermore
Besides, we are working on The World of Cyberpunk 2077 for the publishing house Vovkulaka_ and on some other activities considered as confidential yet you will unequivocally like it.
Temporary Defeats of Ukrainian Localization
At the end of January, we had a bitter disappointment since the project of Ukrainian localization of Banner Saga 3 was unexpectedly stopped for an indefinite time by developers. It came as an unpleasant surprise while we have almost finished the translation (two files left unimported).
However, we have the text itself along with the permission from the developers to do whatever we want with it. This led us to an idea to create an Ukrainizer. The same will be with Hand of Fate 2 since the studio has closed earlier. Regretfully, these two wonderful projects will be put on ice for the time being, at least as long as there are other projects of higher priority and the developers more open to Ukrainians.
Other Activities at a Glance
Dungeons&Dragons Dictionary
We were repeatedly addressed regarding a dictionary of some terms of the world Dungeons&Dragons , so the idea to create the dictionary on our website born its fruit.
This includes:
• game process terms;
• terms of objects and characters' characteristics;
• character classes;
• weapons and armour;
• spells and various items with magical effect;
• geographical names;
• names of creatures and characters.
We kindly ask you to mind: this dictionary is based on the translation of videogame series Baldur's Gate, which means some terms and their meanings can be different from the terms of a classic tabletop game, whereas some terms can be omitted as far as they were omitted in the videogame.
In case you disagree with the translation offered, feel free to justify your standpoint on special Discord channel or use any other translation. Are you of the idea your level of both English and Ukrainian is decent? Are you of the idea we put it wrong? Do not waste your and our time on discussions and join us in Ukrainian localization of Baldur's Gate 2. Contact us either on Facebook or Discord. Another option is to fill in the contact form on the site.
Lviv European 2020
In February, we preached on localization at the Metropolitan Andrey Sheptytsky Center of Ukrainian Catholic University as part of the finals of the Lviv European Translator Competition. It was a great experience, namely many positive emotions, stunning pictures, and letters from interested.

Read more about this event in Tetiana's article Lviv Europpean 2020.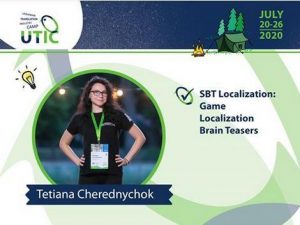 Nevertheless, we are not settling down. Tetiana is going to visit UTIC 2020 in July. The chances are high we will meet some of you at this event.
What concerns the near future, on the 12th of March in Borys Hrinchenko Kyiv University dedicated to the day of the Institute of Philology for students of the specialty "Translation" a guest lecture on the topic "Game Localization" will be held. Andrii Pekar will deliver a lecture on behalf of SBT Localization.
Game Giveaways
Thanks to the support of our donators on Patreon we hold giveaways weekly on our page on Facebook.
In January we presented Crash Bandicoot N. Sane Trilogy, Ancestors Legacy, Guns of Icarus Online, Dirt Rally 2.0, Street Fighter 5, Mages of Mystralia, Shadow of the Tomb Raider, Two Worlds Epic Edition, The Outer Worlds, Phantom Doctrine, Fluffy Horde; in February: Call of Duty: Black Ops 4, Guacamelee 2, The Spiral Scouts, Shadow of the Tomb Raider, Dead in Vinland, Aegis Defenders, Soulcalibur V, Blasphemous, Sword Legacy: Omen, Spyro, Sonic Mania, Desert Child.
Streams
SBT Localization members held several streams of games with Ukrainian localization.
Yanis Verminko explored the uncharted territories in The Curious Expedition:
Yura Dragon imposed order in Metro: Exodus:
Karina Voloshyna delved into the forest adventures of the fox in FoxTail.
Moreover, we heeded your word of advice and streamed a new game without the Ukrainian language — A Long Way Down. It goes without saying, translating from English on spot is not that easy – it is a profession yet Yura Dragon successfully coped with this task. What is your point of view regarding the streams of games without Ukrainian localization? Feel free to comment below.
Hall of Fame
Our sincere thanks go to those, who have worked their guts out and contributed to the volunteer projects for the sake of Ukrainian localization:
Iryna Makovska

Oleksandr Lukianov

Tetiana Khvastova

Yevheniia Babchynetska

Mariia Polishchuk

Bohdan Peredrii

Yuliia Velboienko

Yura Dragon

Oleksandra Kutsan

Andrii Kozhushko

Tetiana Cherednychok

Eduard Spirkin

Bohdana Vozniuk

Yuliia Shchyrba

Sofia Shul

Yanis Verminko
On behalf of the entire SBT Localization team, we would like to highlight the magnitude of the contributors, who have done their best to develop cause in one way or another: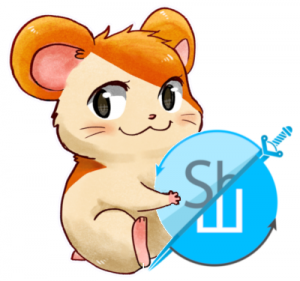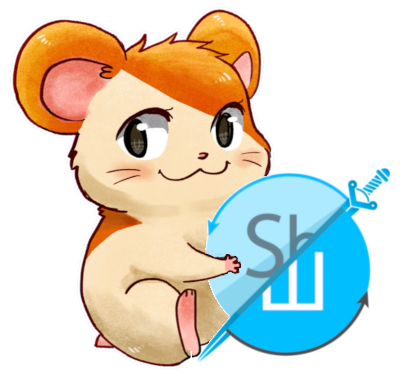 Yanis Verminko

Sofia Shul

Ivan Yankovyi

Yevhen Tkach

Andrii Serbovets

Yura Dragon

Karina Voloshyna

Tetiana Cherednychok

Oleksii Ivanov

Yurii Bisyk

Andrii Kozhushko

Yuliia Hladka

Aliona Androsiuk
Join Us!
SBT Localization is always on the lookout for new talents. If you are a game localization enthusiast or just want to try, don't hesitate to contact us through our online form or find SBT localization on Facebook, Twitter, or Discord.
Even if you have no time to partake in Ukrainian localization efforts directly, you still can help by donating.
1) Support us on Patreon;
2) Send your donations to acc. No. 5169 3305 1649 7846(if you do it through a payment terminal, be sure to provide your full name so that we know whom to thank).
3) Support us on Epic Games, entering our verification code sbt-localization during your purchase.
Our Thanks
Our heartfelt thanks go to all those who support SBT Localization in January and February on Patreon or by any other means. May you all and your families stay healthy, successful and live well!
$200

$100


$50


$25

$10










$5
We'd also like to thank Yurii Brehman (2$), Pavlo Donchenko (2$), Oleksandra Kutsan (2$), Volodymyr Hryhorash (2$), Maksym Khvastov (2$), Oleksii Ivanov (2$), Oebouiu (2$), Andrii Kozhushko (2$), Tetiana Cherednychok (2$), Oleksandr Lukianov (2$), Tetiana Kaliuzhna (1$), Tenevyk (1$), Jarlaxle Baenre (1$), Volodymyr Zhuk (1$), Stanislav Makar (1$), Bohdan Rutylo (1$), Andrii Ilkiv (1$), Roman Lysenko (1$), Yaroslav Urbanevych (1$), Oleksandr Soloviov (1$).
SPECIAL THANKS FOR SUPPORT TO CROWDIN TEAM!
UKRAINIZATION OF THE UNIVERSE MARCHES ON!
March 16, 2020
SBT Localization: Report #53 (Jan-Feb 2020)