Greetings to you, all the gameaholics out there!
Summer is the best season, probably, because there is no time for bore when you have to travel around the world or cultivate grandmother's garden bed or just lie in the sun thinking about something pleasant.
We guess you're wondering how SBT Localization Team spends its summer? Well, let's have a look.
The Sinking City: new localization by SBT Localization Team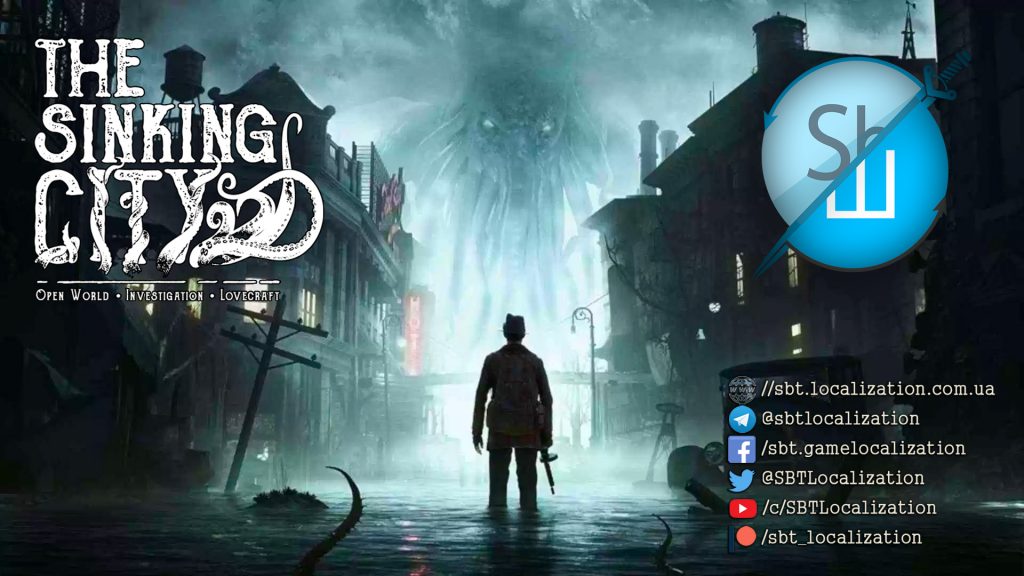 First of all, we are proud to announce our achievement. In June, The Sinking City by Ukrainian studio Frogwares was released. The game is available on PC, Xbox One and PlayStation 4, and later will be available on Switch. Please note that there is no Ukrainian localization on PlayStation 4 yet.
The Sinking City is an adventure and investigation open-world game inspired by the universe of H.P. Lovecraft.
You can read more about the game and its localization process here and here. 
We hope that you'll enjoy Ukrainian localization by SBT. Buy this game if you haven't done it yet and dive into the world of unusual adventures.
Enjoy!
Did you know that Siege of Dragonspear…
No, unfortunately there is no sign of 2.6 patch. Beamdog is still working on the release all the Enhanced Editions for Nintendo Switch, PS4 and XBox One. However, they promise the 2.6 patch for Baldur's Gate will be delivered to players shortly. So we just have to wait.
But we have some good news, too. Siege of Dragonspear, an expansion pack for Baldur's Gate: Enhanced Edition, is partially available in Ukrainian! The last update is on 75% translated.
The translation still requires editing, but it is suitable for playing. So add some new adventures to your Baldur's Gate game and go ahead and save the world!
How are the other games doing?
Now let's take a brief look at the rest of our projects.
The Curious Expedition: the editing is about to finish
In June, we didn't succeed in finishing the editing of the roguelike expedition simulation The Curious Expedition. But we hope that we will be able to finish it till our next report, because there's only small amount of text left to check (74% of the text have been edited). Wait for the update after the end of the editing. 
Kingdom Come: coming soon?
Kingdom Come: Deliverance is translated by 70,5% and edited by 8,8%. In June, the most active translators on this project were Bohdan Peredrii, Iryna Makovska, and Yuliia Velboienko.
Tales From Windy Meadow: it is not the end
We are still working on Ukrainian localization of interactive story Tales From Windy Meadow. In June, we translated the game on 65% and edited on 34%. Not bad, eh? Special thanks to Maksym Duvanov, Oleksa Mormor, and Anastasiia Zhyshchynska.
Banner Saga: starting to take off…
The Banner Saga 3 has 65% progress of translation of the common files and 20% of dialogues. We express our appreciation to Oksana Ryvko, Yevheniia Babchynetska, Yurii Bisyk, and Yura Dragon.
Baldur's Gate 2: step by step
The translation of the huge Baldur's Gate II: Enhanced Edition moves slowly but steadily and the progress is 32,47%.
In June, the most active translators were Tetiana Khvastova, Mariia Deikalo, and Nazar Kompaniiets.
TV series and comics
SBT Localization, namely Yanis Verminko, continues to work on Ozark TV series translation. In June, the first and the second episodes of the second season were released and are available on  KinoTron and Toloka. The firs season is also available on  KinoTron and  Toloka.
We are still working on translation of Outsider comics despite its speed reduction. Feel free to visit its website page and find new translations.
Other activities at a glance
Kyiv Comic Con 2019
In June, SBT Localization members preached visited Kyiv Comic Con 2019. As a usual they talked to developers about Ukrainian localization and payed attention to some future projects.
Articles
It is a great pleasure for us when the work of SBT Localization Team is supported and interested. In June, Yaryna Zheldak wrote an interview about us : )
If you are eager to improve yourself this summer read this article about Multimodal Challenges in Localization. Here you will find out how localizations differ among countries and how users perceive text, visuals and sound. 
Subreddit and Epic Games
SBT Localization is on Reddit! Please share your thoughts with SBT about Ukrainian localization and other interesting stuff! Our moderator Shahorable will be glad to see you there!
You can also support us on Epic Games. All you need is during your purchase enter our creator code sbt-localization. We are very grateful to everyone who helped us to become a member of a SUPPORT-A-CREATOR PROGRAM. 
Giveaways
In June we had a lot of giveaways. Thanks to Verminko's generousity we hosted giveaways of  Warhammer: Vermintide 2 (Facebook), Assassin's Creed Origins, Absolver and Cultist Simulator (during the stream on Twitch).
We also organized The Sinking City related competition where the contestants had to find all the Easter eggs that we claimed. We thank you all very much for taking part in this competition. We hope you enjoyed it.
Moreover, PlayStation Україна community hosted a giveaway coincided with The Sinking City release. All the presents were sponsored by SBT Localization Team. We thank Frogwares for support.
Streams
In June Yanis Verminko and Andrii Pekar streamed a lot. You can watch stream record on our YouTube channel.
1) Yanis Verminko — Vambrace: Cold Soul
Unusual journey through icy land and fights with ghosts. And also the protagonist has yellow-blue eyes, just like Ukrainian colors 🙂
2) Yanis Verminko — SOMA. Horror science fiction. The plot takes place on the Atlantic Try to survive and find out who is your truly friend…
There is non-official Ukrainian text-only localization  of SOMA.
3) Yanis Verminko — The Big Journey. The game tells about a cat who travels around the world looking for a friend. 
4) Andrii Pekar — The Sinking City.  An adventure and investigation open-world game inspired by the universe of H.P. Lovecraft.
Hall of Fame
Our heartfelt thanks go to all those who worked hard on Ukrainian localization in June, especially to::
Bohdan Peredrii (Kingdom Come: Deliverance)

Iryna Makovska (Kingdom Come: Deliverance)

Sofia Shul (The Curious Expedition, Baldur's Gate 2)

Yuliia Velboienko (Kingdom Come: Deliverance)

Oleksandr Lukianov (Kingdom Come: Deliverance, Outsider comics)
On behalf of our entire organisation, we also express our appreciation to other SBT Localization members who contributed to our cause in one way or another:
Yuliia Hladka

Oleksandr Lukianov

Sofia Shul

Oleksii Ivanov

Olia Khmelnytska

Tetiana Kaliuzhna

Ivan Yankovyi

Yanis Verminko

Andrii Kozhushko

Andrii Pekar

Yurii Bisyk

Tetiana Cherednychok

Andrii Serbovets
Join us!
SBT Localization is always on the lookout for new talents. If you are a game localization enthusiast or just want to try, don't hesitate to contact us through our online form or find us on Facebook, Twitter, Discord or Reddit.
Even if you have no time to partake in Ukrainian localization efforts directly, you still can help by donating.
1) Send your donations to acc. No. 5169 3305 1649 7846 (if you do it through a payment terminal, be sure to provide your full name so that we know whom to thank).
2) Support us on Patreon.
3) Support us on Epic Games, entering our verification code sbt-localization during your purchase.
Acknowledgements
Our heartfelt thanks go to all those who support SBT Localization on Patreon or by any other means. May you all and your families stay healthy, successful and live well!
$200
$100

$95
$50
$30
$25
$10


$5


We'd also like to thank Oleksandra Kutsan ($2), Andrii Kozhushko ($2), Volodymyr Hryhorash ($2), Yury DEmonCDXLIV ($2), Pavlo Donchenko ($2), Maksym Khvastov (2$), Oleksandr Fadesmoker (2$), Hlib Kozubov ($2), Yurii Brehman (2$), Taras Syniuk ($2), Oleksii Ivanov (2$), Oleksandr Lukianov (2$), Pavlo Chernitsov (1$), Volodymyr Zhuk ($1), Staniskav Makar ($1), Jarlaxle Baenre ($1).
AND A SPECIAL SHOUT-OUT GOES TO CROWDIN TEAM FOR THEIR SUPPORT!
UKRAINIZATION OF THE UNIVERSE MARCHES ON!
SBT Localization Report #46 (June 2019)