Merry Christmas and Happy New Year, dear gamers!
A few days ago we published a review of the previous year, but we thought you may still be interested into reading a few more words about the life and affairs of the SBT Localization team in December.
Although December was a bit less fruitful to the translation victories (it was the exams time to the students, while members with families were more concerned with preparing for the winter holidays), but still we have something to boast with.
Achievements
First of all, let us remind that the Ukrainian localization of the cyberpunk shooter Ruiner should soon be released. Its DLC will also have Ukrainian language. There's a discount for this game on Steam, and more SBT Localization decided to make a lottery and give away one key (and something else), as soon as the Ukrainian language is added to the game. So follow our pages in social networks.
In December, the translation of a new secret project, which is now in the stage of proofreading, has been completed. The release of this project will be in the spring. We are sure you'll like the game.
Due to the fact that at least until mid-December, the focus of our team was mainly on the secret project, we had little time for other projects. However, we do have some progress there.
To those, who patiently wait for the Ukrainian language in Siege of Dragonspear, we tell that the translation progress is already 57%.
So that you do not get too much upset about how long it takes for us to finish this project, we say that the translation of this DLC is completed only by Brazilians and Italians. The rest of the languages (such as Polish, Russian, Spanish, Turkish) made no further than 15%.
By the way, there's a discount available for Siege of Dragonspear on Steam. Take the opportunity to buy the game and DLC.
Translation of Hand of Fate 2 has reached 40%. Yeah, we thought we would finish this localization until the New Year, but by that time we had no secret project yet. And secret projects have the highest priority. Well, 40% in this case is quite a lot, you know, it's about 76,000 words.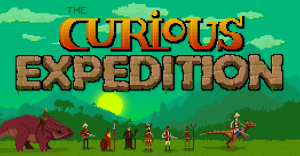 In December, the SBT Localization team got a new project – The Curious Expedition. However, the advantage is still to the Hand of Fate 2, and the new project is an alternative work to those who need a bit of variety. There's also discount for The Curious Expedition on Steam, so hurry to buy it.
The promised tales of George McDonald for the web magazine Світ Фентезі is already in the proofreading stage. Hopefully, you will get as much enjoyment from reading as we do from the translation.
Events
At the beginning of December, an international congress of game developers – Games Gathering – was held in Kyiv. It was a great opportunity to learn more about the process of creating games and getting new acquaintances.
Mr. Verminko has writen an interesting article on cybersport. Undoubtedly, one should read the article and share it with those who still consider video games something for killing time and brains.
Also, Verminko has prepared for you a brief overview of the games, which release should take place in 2018. It is clear that every and all games could not be mentioned in the article, otherwise it would take you to read it all day. If you think there's something important missed – well, there is no monopoly, feel free to make your own reviews and share them too.
A Paragraph of Fame
In December, Sofia Shul, Mykola Melnyk, and Rostyslav "Rusty" became the worthy ones of the fame and your gratitude. These people have received symbolic encouragement from our benefactors. Thank you for your good work!
Also, the SBT Localization team expresses its sincere gratitude to its activists for their indifference to the interests of the team, its development and team spirit: Oleksii Ivanov, Olha Khmelnytska, Oleksandr Lukianov, and Andrii Pekar.
Newcomers
In December, our team welcomed yet another translator. It was Maria Polishchuk. Once again we wish her success and good inspiration!
MANY THANKS TO ALL WHO SUPPORT US!
UKRAINIAN LANGUAGE – GO!
SBT Localization: Report #28