Computer games, as a fact, became a part of modern lifestyle and there are very few people in civilized world that could imagine common life without them. Younger generation spends a lot of time using computers; older generation in the best-case scenario doesn't intervene. In the worst one – grumbles and tries to fight it as a thing. But in one way or another there are too few people who consider computer games as something worth their attention (except for developers and big game distributors of course).
However, times change. Cybersport came into the life of gamers. That, which began as a friend party somewhere in a basement has grown into a whole industry. Industry, which provides emotions and entertainment. Industry that grows with every passing year, bringing in not only new players but also big moneyballs.
How it all began?
It's common to say that starting point for cybersport was the Red Annihilation Quake tournament, which took place in 1997 on Electronic Entertainment Expo under John Carmack's guidance. Eight participants competed for the prize of 5 thousand dollars and a Ferrari 328 GTS. Quite a prize for playing a game, don't you think? Victory was taken by Dennis «Тhresh» Fong , who is considered to be the very first professional in cybersport.
Talking about this truly historical victory Tim Willits, the studio director and former co-owner of video game developer Id Software (Doom, Quake), would say, "He built the foundation which helped us to develop E-sports as an industry in near future."
The foundation stone is laid. What's next?
After that the situation would only evolve and progress. Game conventions got bigger and so did the interest. Shortly after, in 2000, first World Cyber Games were held in Yongin, South Korea. They were sponsored by Samsung and Microsoft and supported by Ministry of culture and tourism and Ministry of Information and Communications of South Korea.
These events, which were organized under WCG flags, tried to emulate the Olympics. This included an official opening ceremony, and players from various countries competing for money prize and gold, silver and bronze medals. WCG also had it own motto "Beyond the game". It also had its own disciplines: Quake III Arena, FIFA 2000, Age of Empires II, StarCraft: Brood War and Unreal Tournament. Total prize pool was 200 thousand dollars and the competition had 174 competitors from 17 different countries.
Furthermore, WCG took place on annual basis and the prize pools, disciplines and number of competitors would only grow. Later such games as Counter Strike, Warcraft, Need for Speed were added as well... As for WCG itself, they took place not only in South Korea, but also in USA, Italy, Germany, China.
But there's not only WCG in the word of cybersport. Besides that there are also american Major League Gaming (MLG), which is specialized on Call of Duty tournaments and is famous for first TV stream of a videogame tournament.(it was a stream of a popular game in USA – Halo) and Intel Extreme Masters (IEM), where Counter Strike and Warcraft were the main disciplines for a long time.
It's exactly then, in middle 2000s when most of teams that represented gamers on professional terms, were formed. Among them are fairly famous and rich organizations such as OpTic Gaming, Evil Geniuses, Team SoloMid, eRa Eternity, Cloud9, Fnatic, Mineski, Counter Logic Gaming, SK Telecom T1, Splyce, Team EnVyUs, Natus Vincere and others.
So you can think – this is it, the starting point of cybersport, because that was the moment in time when business came into e-sports. A point of view has formed that it could be profitable to gather people, make them play together, train together, compete and win. Take victories not only for self-esteem but also to win money, make revenue. It was time of first investors, first successes and first failures. But the real revolution was still ahead. The smell was in the air, but still too far to call it a breaking point.
Breaking point
The real revolution that remade the game as it is began in 2011. All happened thanks to the two major events in the world of gaming. Without them, you cannot imagine modern e-sports. However, first things first.
I want to watch it!
First and major event was starting a stream platform that specialized in videogame streams, Twitch.tv. Cutting to the case, it wasn't really a start of a new platform, it was more like a detachment from a bigger service Justin.tv. The reasons were prosaic – the gaming section had such growth tempo, that there was no sense in maintaining others alongside. So the CEOs decided to spin off the gaming content. Moreover, the stake took the prize. Just in five days since launch, Twitch had 6.5 million views with total 60-70 thousand active audience. It kept growing since then. In 2012, Twitch has been supported by significant investments of venture capital, with $15 million and $20 million in 2013. The community and viewership was growing and so was the revenue. Twitch got the lead among streaming platforms and even got big enough to be a contender to Youtube.
After its rocket-like rise, Twitch became #1 game-streaming service. League of Legends, Counter-strike Global Offensive, Dota 2 and Call of Duty have quickly become the top-streamed games, replacing classics like Quake, Starcraft in the average gamer's life.
The community continued it's exponential growth. Why though? The answer is really simple. It's all because of the fact, that Twitch became a place where regular gamers came to make streams of their gameplay, and gamers which came here to watch those. To see how others play their bellowed games, how they interact with it, how they win or fail in different situations. To see the reactions when they beat the game, or get wrecked by a powerful foe. Some were doing such streams seriously, some made them "just for lulz" and interaction with viewers in chat. The main thing that made Twitch popular was the "subscription" that allowed viewers to interact with streamers directly, the ability for the streamers to gain some "premium" features in channel, and also made it possible to monetize their streams, not only with ads, but also directly from users.. Thanks to Twitch, games became a source of income for such people. Stable income, which was pretty awesome and revolutionary at the time.
Just for a showcase, top League of Legends streamer Michael "Imaqtpie" Santanа earned $2 million a year in 2015, just from streaming alone, not including income from sponsorship or marketing. That's an average of $30 thousand/month just for playing a game. Nice income even for an American reality.
But videogame streams were not the only cause of success. The thing is that Twitch.tv began streaming top game tournaments as well. League of legends championships made the most of these. For example the championship held in 2011 had 1.7 million viewers and this increased to 8.2 million in 2012. For 2013th championship, the overall number of viewers increased to 32 million. And that is just this one game's championship. For example, Trump's inauguration ceremony had "only" 30.6 million viewers.
So what is the reason why so many gamers are tied to their computers, watching the streams, supporting the teams and even paying real money for it?
 I'll show how it's meant to be played!
And this is when we get to the second event that gave a good push for e-sports as an industry and made cybercareer a thing So what was it? The top games on Twitch were not only user-friendly and easy to access, they were multiplayer titles, which can be played with friends over the Internet. Games, utilizing free or free-to-play business models with their gameplay focused on fast competitive team matches brought in a lot of player as well, given the low entry bar. In those huge communities, amateurs have grown into professionals, playing on the highest levels.
The first Dota International, which was held by Valve in Cologne, 2011 became the starting point after which e-sports and cybersports changed into their modern form. A true sports discipline. Why so? Because International changed the organization of championships as it is. It has set up the trends and standards for such events in the future.
Valve had given an enormous prize fond – $1.6 million with the prize of $1 million to the competition's winner. 16 DotA teams from all over the world came to Cologne for the chance to win the main prize. The remaining 600 thousand were distributed among the competing teams according to the places they earned. Just a note, the first ever DotA Internetional winners was the Ukrainian team Natus Vincere, that took the hard earned million home.
Later Valve shot a documentary about those events called «Free to Play», where they took a critical look at the lives of several players and teams that took part in the tournament. It was mainly centered around the lives of the members of the teams and how their commitment to DotA had affected them. After the first international the number of viewers has grown, and so has the prize pool, which this graph depicts:
Riot Games and their League of Legends are not far behind in their efforts in cybersport. And if the first season championship was modest and not really noticeable (the prize pool was "just" $100 thousand, with 8 competing teams representing 4 regions), the second season championship, that took place in 2012, was pretty global. This time the prize pool increased to $2 million (with 1 million for the winner, same as Valve's) and the tournament was held in Los Angeles. After making it through the qualifiers in their respective regions, 12 teams from 6 different regions (North America, Europe, China, Taiwan, South Asia and Korea) competed for the money.
The second season world championship had 8.2 million viewers with a maximum of 1.1 million concurrent viewers, making the Season 2 World Championship the most watched eSports event in history at the time. Just for example the royal wedding in Britain that year had only 300 thousand concurrent viewers and YouTube summer Olympics stream had 500 thousand viewers.
League broke their own record next year, when the tickets for the finals, which took place in Staples Center were sold out in just an hour after sales commenced.
These news hit the main pages not only on gaming-related portals, but also on more mainstream media in the "wide world" . People finally began to realize that e-sports are much bigger and influential than they have ever imagined.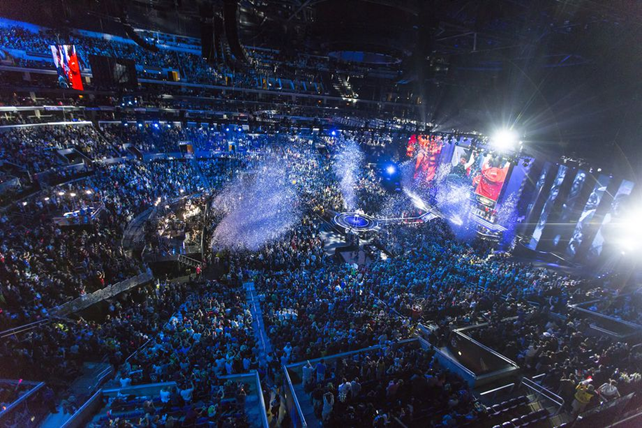 Mom! I'm an athlete!
So, what is it all about, this modern e-sports thing and these die-hard competitions? It's simple, really. Games became not only a pass-time activity, but also something bigger. They transformed into a career opportunity.
And this is not just being discussed – it's being done. USA has recognized e-sports players as athletes. Moreover, teenagers choose between college and cybercareer, and often they choose e-sports. Because it's a real opportunity for their skills to be rewarded with fame and cash. It's not just a subculture for teens that gather together, it became an entertainment business, not unlike football, hockey or golf, with more and more sportsmen sharing such an opinion. Even Fortune and Forbes started writing about how it's profitable to invest into e-sports.
All is simple
There are companies that provide annual championships and tournaments, which amaze with their complexity, scale and prize pools. There are also teams, that have professional gamers under contracts, with salaries, accomodation and food for their young employees. All for one reason. To play and to win. To earn money, to earn fame. To make revenue. Now, E-sports is sponsored not only by its "traditional" partners, like gaming setup or computer tech companies, but also other "big world" investors.
For example, League of Legends, beginning from the 2018 season will be a "franchised" league. Teams that are performing under Riot's North American league would be business projects with full investors under them. Most teams would have NBA team investors behind their backs, with enormous budgets and big investments. In the European league such big organizations as PSG, Schalke 04, FC Copenghagen, Red Bull, Valencia CF invested into e-sport as well. And all of this is just the beginning.
A market intelligence company called Newzoo, which specializes in analyzing e-sports has researched the revenue forecasts, and the numbers provided are nothing short of impressive. According to the reports the revenue and viewership will double until 2020.
Just try imagining those numbers. All the revenue, viewer numbers, interest and sympathy growth will reach the heights that would have NBA and NHL become envious of what's going in e-sports. So it's no wonder that more and more of big-money fellows are viewing  e-sports as a tasty piece of cake. The profits are more than obvious.
Summary
Now, sitting in front of the computer, a teenager can proudly say: I'm not playing, I'm practicing. I have a dream, and I'm forging my success. Because it's no longer a game, it's a sport. It's a game for those who don't care enough. When you compete for the victory – it's a sport. And victories are real here. So are the perspectives.
By "Verminko"
Games as Sport. The Phenomenon of E-Sport. Cybersport Career as Future.