On May 19-20 Comic Con, the festival of popular culture, took place in Kyiv. Guests were able to immerse themselves in the mysteries of creating masterpieces of cinema, comics, video games and literature, playing board games and video games, seeing Ukrainian localizators and other fantastic creatures.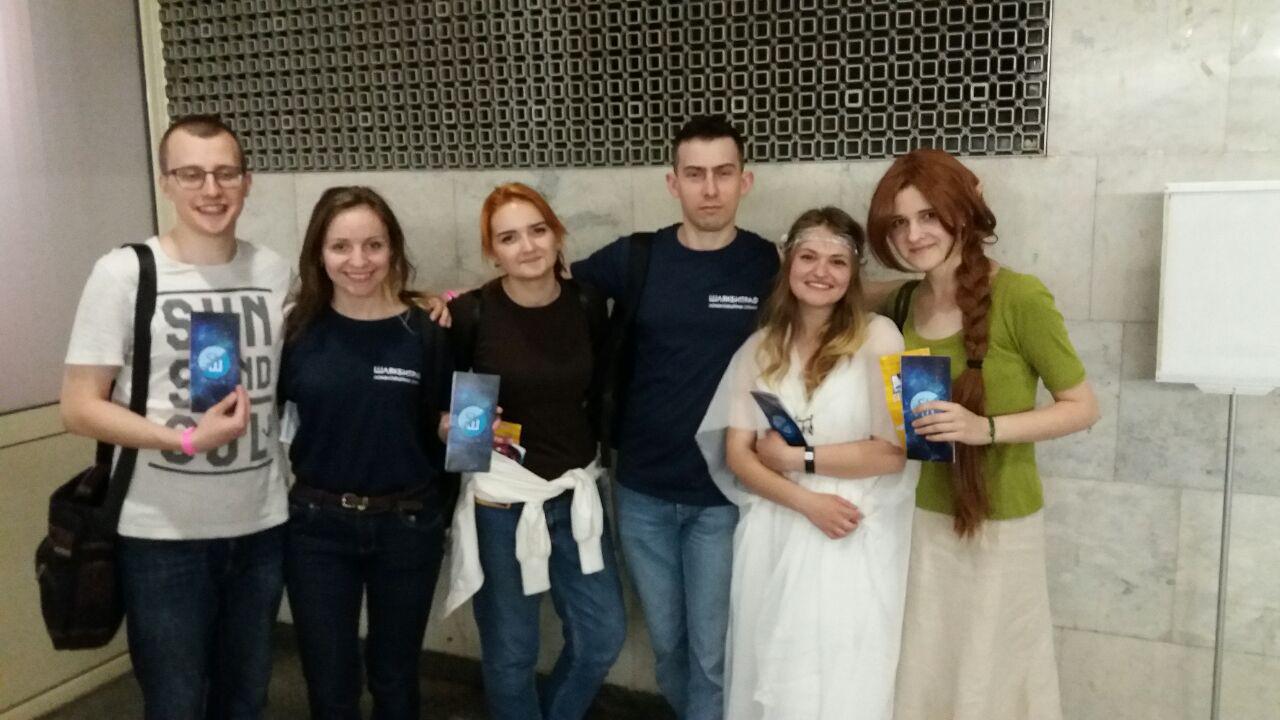 This year, the team of SBT Localization at Comic Con was represented by Oleksandr Lukianov, Olha Khmelnytska, Bohdana Vozniuk, Oleksii Ivanov, Oleksandra Kutsan, and Polina "Vlastelinchik". Though later everyone shared their own impressions from the event, everyone agreed that everything was at a high level, so they spent some great time and learned a lot of interesting things. It was particularly nice to see our subscribers, who could easily find SBT Localization members due to their new uniform. Some people were just happy to have a little chat, and some were somewhat shy to come over to talk, and in that case a messages would come from friends: "I've seen your people."
Oleksii Ivanov didn't only entertain himself on the festival, he took his sacred role as a preacher an enlightener of Ukrainian localization very responsibly, and so he did his best to speak with as many people as he could, and some quite important people happened to listen to him. Also, those who approached him, received an autograph a cute booklet with information about SBT Localization.

"Though ideologically, this is more or less the same event as it was in the past and the year before, every time you see something new," Oleksii says. "There is the adaptation of the Indian epic Mahabharata (it's hard to even imagine the size of work), and new editions of Ukrainian comic books (the SBT Localization delegacy managed to get acquainted with them and told them about our works), and new interesting cartoons, and a much larger sector of board games."
He also said that it was nice to see children as well as bearded adults at the tables, which proves that this genre of games is experiencing a revival.
Polina came to Comic Con as Yuna, a comics character.

"This year the organization was at a higher level than the previous one," she praised the festival. "The level is going up and this can not but please. We attended a lecture, a presentation of "Mavka"… If everything goes as planned, then the cartoon will really go to the world level. This year, there is less Harley Quinn and more interesting, non-standard characters. I enjoyed a lot of master classes and, of course, my favorite shooting from English bow. In general, it's cool, fun and cognitive."
Here it should be noted that Polina shoots quite accurately. What else you would expect from an elf with her pumped skils for dexterity. Even an archer instructor could not resist and came near to take a picture with Polina.

Bohdana is a true "veteran" of the festival. She really liked this year's organization, because there were no huge queues and strong stumbling around various stands.
"Traditionally, there were very interesting lectures. Many of them were partially related to translations, so time was spent well. Also, there were cool game stands and impressive presentations at the cinema.
Many of my friends say that the festival can not be called a full-fledged, if you are not in the cosplay, but personally, I do not feel that any significant part of the festival fell off for me – it was still a lot of fun.
And a long-awaited meeting with my colleagues was a top on a cake, in general, because it's a great pleasure to yelp in Just Dance with the people whom you "see" daily in chatbox."
Oleksandr Lukianov shared the impressions of the festival as well: "It was cool there! All interesting things in one place. It was nice to see that the Ukrainian market is developing, there are more and more translations of comics, books… Unfortunately, the video game zone itself was not very rich, but it also brought interesting acquaintances.
I visited a very cool lecture on fictitious languages, with a detailed analysis of where and how it was done. It was great. Even more cool was that many people came wearing cosplay suits just like that, and why not. Once again, skills of the cosplayers were stunning. I wish I was so creative!
As for the fails, I can say that the Ukrainian House is obviously not constructed for such big crowds, so it was hot and stuffy. But despite everything, the organization was at a heigh level, so come to the Comic Con, it's worth your while."
Oleksandra Kutsan came to the festival as an Elven Queen Galadriel. However, the royal restraint from time to time was overcome by the elven defiance… and then even Dovahkiin was powerless.

Oleksandra found the greatest pleasure from the Cosplay, since the Comic Con could offer a variety of characters from cinema, games and comics.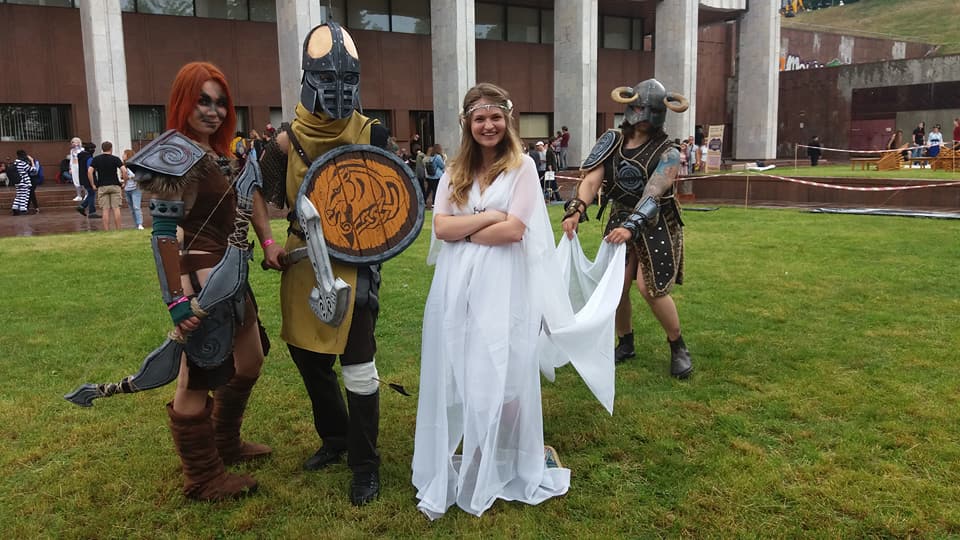 "Impressions, as always, are positive," she said enthusiastically.  "I like to say that ComicCon is a big family. Where and when can one find such a meeting of freaks? )) Three witch sister from The Witcher were eager to eat you for dinner, harsh Gamora of Guardians of the Galaxy, who gave a green spot to my costume, or Vernon Roche, who mistook me for a Scoia'tael and almost cut off my elven ears (literally). What could be better? The bracelet is on my hand, and ComicCon is in my heart."
In general, everything was positive and fun, thanks to the organizers for a great festival. Looking forward to the next!
SBT Localization & Kyiv Comic Con