Oh, summer. The smell of strawberries, travels and adventures. Students are finally free (or almost free) from schools and universities, and are ready to conquer the world. Meanwhile, SBT Team have set their sights on conquering not just one world, but many worlds altogether.
Kyiv Comic Con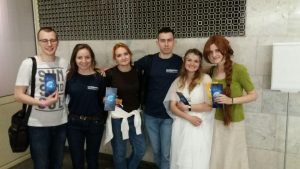 First of all, we should mention the Comic Con gathering that took place on the 19th and 20th of May in Kyiv. An abundance of discussions, board games, cosplay and, of course, pleasant company – what more could you ask for to have a good time?
Members of SBT Team were sporting some new T-Shirts with an updated logo (finally!). But several of their number have decided to attend the convention dressed as their favorite characters, adding to the spirit of Comic Con. And which character were you: a witcher, an elf, a demon… or a videogame translator?
For many, Comic Con was an entertainment event, but for some it was yet another day in the office. Members of SBT team discussed Ukrainian localization matters with visitors and were busy handing out crafty booklets with information about the team's projects and activities. If you got one, don`t be greedy, share it with your friends.
Reviews on the event, written by our attendants can be found in the News section of our website.
Ruinous Stream
We've done Ruiner streams twice last month. Our streamer team, which included Andrii Pekar, Yurii «Shahor» Bisyk, Yanis Verminko, Oleksii «Stravenger» Ivanov, and Olya Khmelnytska have done their best to keep our spectators entertained with an exciting game and delved into a discussion about the game's translation process, points of interest in the videogame business and many other topics.
Videos from the streams are available on our YouTube channel.
On occasion, we host other, smaller streams as well. Our Twitch channel has a few videos with the walkthrough of the game Bravada, made by a Ukrainian developer, Interbellum team. A wonderful and fun game to relax and enjoy, definitely worth checking out.
The Great and Mighty Baldur's Gate
Baldur's Gate seemed to be almost forgotten, but it experienced a resurgence of interest last month. Nearly 6% (close to 36000 words) of the DLC Siege of Dragonspear have been processed during May. 72% of the text has been translated to the time of this report. If we keep this up, the translation will be complete by September 2018.

This month's most active translators for this project were Oleksandra «Cirilla» Kutsan and Yanis Verminko.
Also, we have decided to make a full review of our previous translation of Baldur's Gate: Enhanced Edition. The reason for that came from the increased interest from gamers and young philologists as of late. It should be noted, however, that only a few enthusiasts – founders of SBT Team – worked on the translation at that time, but lack of information about the game and (let's be honest with ourselves) professional skills resulted in some very silly mistakes. Moreover, the developers have added new changes to the in-game texts, which worsened the situation. Now it's a matter of honor for the team to make this translation great again.
In addition, we will do our best to try to convince developers to add Ukrainian voiceover to the Siege of Dragonspear as well. Now that would be great, wouldn't it? Of course it would.
Other Projects
Either the summer sun has made our translators lazy or this could be blamed on the university exams, but our other project slowed down.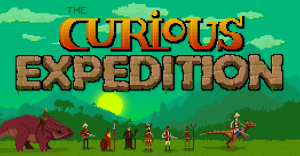 Part of the team working on The Curious Expedition apparently got lost somewhere in the jungle of text. Bohdana Vozniuk resurfaced near the end of the month and told us that the rest were captured by wild tags. Miraculously she was the only one spared by this fate. She has had a little rest on Kyiv Comic Con and ventured in the wilds again in order to rescue her colleagues and fight the translation.
We hope that the next month will be more successful for The Curious Expedition.
Meanwhile, translation progress has crossed the 57% mark.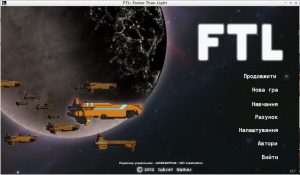 FTL: Faster Than Light is partially edited with the last (and the largest) file under editor's review. Yevhen Tkach (he is the initiator of the project as well) apparently doesn`t want to share neither the burden of the translation nor the glory with his colleagues and thus resigned to doing it all by himself. We asked him to share many times, but all we got was his angry hissing. It seems that this is his personal space quest. All we can do at this point is wait.
Hand of Fate 2 is still under editing. We know it's long, but making a sentence look good with three variables in it coming one after another is by no means a trivial task. Oh, simple English syntax, we weep, for we are envious.
Curiosities
In addition to everything above, we have posted two of Verminko's articles. The first— «Are you afraid of mistakes: 2.0» — used programmers, developers and others involved in the process of videogame making as an example of how a flaw can become the icing on the cake for a game. A fascinating read that you we recommend checking out if you have not done this already.
The second article «Meet Visual Novels. Top 5» is, surprisingly enough, dedicated to visual novel genre. It skims briefly over… well, it's best if you read the thing yourself. You can also post your top 5 favorite novels in the comments, that would make Verminko happy.
This May we have rewarded our most generous patrons with some cool new t-shirts with the SBT logo. From now on,  our most generous Patreon supporters will receive such a shirt as a sign of our appreciation. Furthermore, should our Patreon support reach the 250$ per month mark, we will be making a videogame lottery program twice a month on Facebook, where the lucky winners will be able to grab on the 2-3 games, translated by our team.
We're still working on reaching the Shadow of War developer team, as this was the game our supporters have voted for, regarding the matter of the next localization. However, if this will remain unanswered, we still have a second best option as a backup plan.
Recruits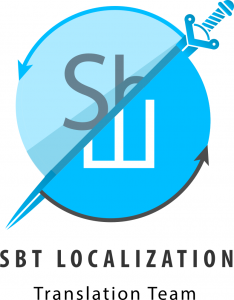 Andrii Serbovets has joined us last month. He immediately proved to be a responsible translator. We wish him success and further inspiration.
Hall of Fame
It could be said that May of 2018 turned out to be a historical time for the team, as thanks to the help from our supporters, EVERY single one of our volunteers was given a symbolic commendation for his time and hard work. With all the «Ice cream money» everyone got, some have rushed to the Steam sale or decided to check the new releases in literature.
Still, traditionally, it is worth mentioning that the most active volunteers were:
Yurii Bisyk
Oleksandra Kutsan
Yanis Verminko
Bohdan Peredrii
Anastasia Zhyshchynska
And, of course, special thanks to those team members who have supported our efforts through other means:
Yanis Verminko
Yuri Bisyk
Sofia Shul
Yevhen Tkach
Oleksandra Kutsan
Oleksandr Lukianov
Polina «Vlastelinchik»
Bohdana Vozniuk
Oleksii Ivanov
Olya Khmelnytska
Ivan «Jaguar» Yankovyi
Andrii Pekar
Maksym Duvanov
Pavlo Donchenko
Thank You
Our sincere gratitude goes to all who supported SBT team in May. We wish you and your families health, success and prosperity.
$100

$50

$10





$5




Also, we thank Taras Khomitskyi (100 UAH), Serhii «Nocs» (100 UAH), Yurii Brehman (2 USD), «Drifters» (2 USD) and Taras Syniuk (2 USD).
SPECIAL THANKS TO IRYNA AND YARYNA FROM CROWDIN!
THE UKRAINIZATION OF WORLDS CONTINUES!
SBT Localization: Report #33