Ukrainian localization of the game worlds is taking essential steps forward. Let's shed light on a short review of what SBT Localization has completed in April 2020.
Localization in Progress
For all those, who used to travel, the quarantine provided additional time to work on the volunteer projects, as well as provided additional obstacles for all whose, who has a remote work.
Kingdom Come: Deliverance
We have completed the translation of the text of the main game. At present, the editing work continues and one-third of the project is already finalized – 232 thousand words (out of 710 thousand).
Toward the end of the month, we started the translation of DLC. That is another huge step since there are around 200 thousand words. If you have a strong will to join this project, it is high time you contacted us via e-mail, Discord, Facebook, Twitter, or Instagram.
What is even more vital, you can support the project by donating on Patreon.
The most significant contributors: Tetiana Cherednychok, Iryna Makovska, and Mariia Polishchuk.
Baldur's Gate II: Enhanced Edition
Our treasured Baldur's Gate II attracted close attention in April since one has his translation practice started. The Ukrainian localization of videogames is a considerable challenge and exciting research area. What does need to be mentioned, our editor's time is quite precious so we decided to choose only diligent students.
At this time, we have got closer to the middle. We have 48% already translated, representing 576 thousand words. If you are an admirer of Forgotten Realms and strive to get the Ukrainian localization of Baldur's Gate 2, we strongly encourage you to join us in this journey!
The most significant contributors: Oksana Ryvko and Anastasiia Rantiuk.
Translation of Literature
Outsider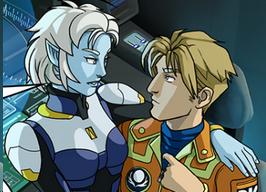 A few new translated pages of Outsider were published in April.
We offer your attention 133 pages in open access (the prologue and chapter 1 for free downloading) on our website via this link.
The contributors are Oleksandr Lukianov, Anastasiia Rantiuk and Tetiana Cherednychok.
The World of Cyberpunk 2077
While we are on the final fling with The World of Cyberpunk 2077, the publishing house Vovkulaka has announced on their Facebook page the start of pre-purchase.

Hurry up! It's a perfect opportunity not only to get a copy of the book The World of Cyberpunk 2077 but also show to the game developers that Ukrainian localization has to be added to the game due to the strong demand.
Series in Ukrainian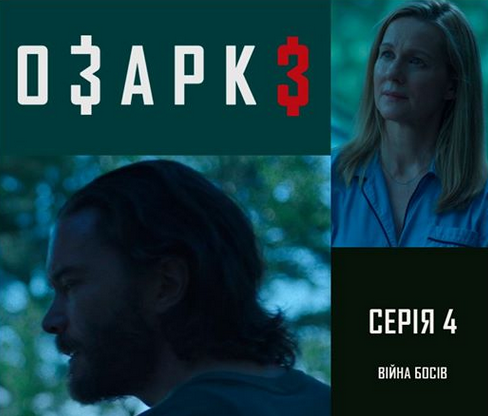 SBT Localization continues their work on the series Ozark. Cutting a long story short, it is already season 3, translated episodes 1-4. Translated by Yanis Verminko, dubbing managed by Adrian ZP.
You can watch the series online on UASerials or download it from Toloka.
Other Activities in a Glance
Game Giveaways
We presented the following games in April: Take On Mars, Carrier Command: Gaea Mission, Frostpunk + The Rifts DLC, Them's Fightin' Herds, Warstone TD, Planet Coaster, Okami HD, Truberbrook, Underhero, Shoppe Keep, HITMAN 2, Pathfinder: Kingmaker Explorer Edition, Book of Demons, Night Call, Eliza, The Bard's Tale IV: Director's Cut, Battle Chasers: Nightwar, Raiden V: Director's Cut, Etherborn, 198X, Mount & Blade II: Bannerlord.
The giveaways are usually held on our Facebook page. Follow and win!
SBT Localization on Steam

Amazing news: SBT Localization has a group on Steam where we publish our game reviews. If you have any bright ideas, join and let's create Ukrainian together.
UTIC
During the second half of July, the annual meeting of UTIC translators will take place in the Meteorite camp near Dnipro. Our team will be represented by Tetiana Cherednychok, who will give a lecture on "SBT Localization: Game Localization Brain Teasers". However, the chances are high the speech will be delivered online.
If you pack your backpack to visit this conference, we hope to see you and have a small talk.
Streams
We cannot find a better choice for a dulling evening during the quarantine than watching some alluring game stream. Frankly speaking, if the streamer is Great Dragon, who uses a microphone bought on money from our donators, the option is the best. Our Dragon (you know, Yura Dragon) has held 25 streams. The recordings are on our YouTube channel.
Visit our streams on Twitch. By the way, sometimes the giveaways are held here.
Hall of Fame
On behalf of the entire SBT Localization team, we would like to highlight the magnitude of the contributors, who have done their best to develop cause in one way or another:
Tetiana Cherednychok
Iryna Makovska
Mariia Polishchuk
Oksana Ryvko
Sofia Shul
Anastasiia Rantiuk
Iryna Andrieieva
On behalf of the entire SBT Localization team, we would like to highlight the magnitude of the contributors, who have done their best to develop cause in one way or another:
Yanis Verminko
Oleksii Ivanov
Sofia Shul
Ivan Yankovyi
Oleksandr Lukianov
Yuliia Hladka
Yura Dragon
Andrii Kozhushko
Andrii Pekar
Yurii Bisyk
Feel Free to Join Us!
SBT Localization is always on the lookout for new talents.  If you are a game localization enthusiast or just want to try, don't hesitate to contact us through our online form or find SBT localization on Facebook, Twitter, Discord, or Reddit.
Even if you have no time to partake in Ukrainian localization efforts directly, you still can help by donating.
1) Support us on Patreon;
2) Send your donations to acc. No. 5169 3305 1649 7846(if you do it through a payment terminal, be sure to provide your full name so that we know whom to thank).
3) Support us on Epic Games, entering our verification code sbt-localization during your purchase.
Our Thanks
Our heartfelt thanks go to all those who support SBT Localization in April on Patreon or by any other means.  May you all and your families stay healthy, successful and live well!
$100


$50


$25



$10








$5
$2
Yurii Brehman, Pavlo Donchenko, Oleksandra Kutsan,  Volodymyr Hryhorash, Oleksii Ivanov, Maksym Khvastov, oebouiu, Tetiana Cherednychok, Pavlo Zhuk, Kirito Kadzuto, Oleksandr Lukianov.
$1
Tetiana Kaliuzhna, Jarlaxle Baenre, Volodymyr Zhuk, Stas Makar, Andrii Ilkiv, Roman Lysenko, Bohdan Rutylo, Yaroslav Urbanevych.
SPECIAL THANKS FOR SUPPORT TO CROWDIN TEAM!
UKRAINIZATION OF THE UNIVERSE MARCHES ON!
17.05.20
Ukrainian Localization: April 2020 (#55)