On September 21, SBT Localization visited Comic Con Ukraine 2019 at Art-Zavod Platforma. To share our impressions with you, we wanted to experience everything the event had to offer. Therefore, we did our best to cover as much ground as possible and see as much as we could. The weather wasn't exactly great that week, but the day turned out to be rather sunny and the sky was mostly clear.
Books, comics, and all that stuff
The venue was packed full of pop culture aficionados and offered something to suit every taste: a cosplay contest, a gaming zone, a tabletop area, a number of photo zones for those wishing to make their photos special, as well as presentations of books and comics. Speaking of comics, we were so delighted to discover physical copies of Hennadiy the Pigeon (Голуб Геннадій) comic on sale. We even hurried to get ourselves a personal copy, and the publisher's representatives kindly signed them for us, too 🙂
Admittedly, SBT Localization members that visited the festival got carried away. So much so that they didn't notice how 6 hours flew by. However, our girls wanted a little more, and so the two decided to take their chances in the exciting Just Dance tournament that was held in the zone aptly named Respawn.
Games at Comic Con Ukraine
Gamers had an opportunity to have a gander at the new (and old) releases like Chernobylite, Neandertallica, Godlike Burger, The Witcher III, League of Legends, CS:GО, World of Tanks Blitz, etc.
To everyone's excitement, Comic Con Ukraine featured a tabletop hall this year. Previously, computer and tabletop games were jammed into the same zone, which was quite confusing. Fortunately, tabletops got a quiet nook of their own this time, and the people had a chance to run away from the city's hustle and immerse themselves in dungeon crawling to their hearts' content.
Photo time!
Those looking for sick selfies had numerous photo zones to choose from and could take as many pictures there as they wanted.
Sweet little things
In addition to gaming and comics, the convention featured booths with all things tasty.
Apart from entertainment, the event featured elements of environmental awareness.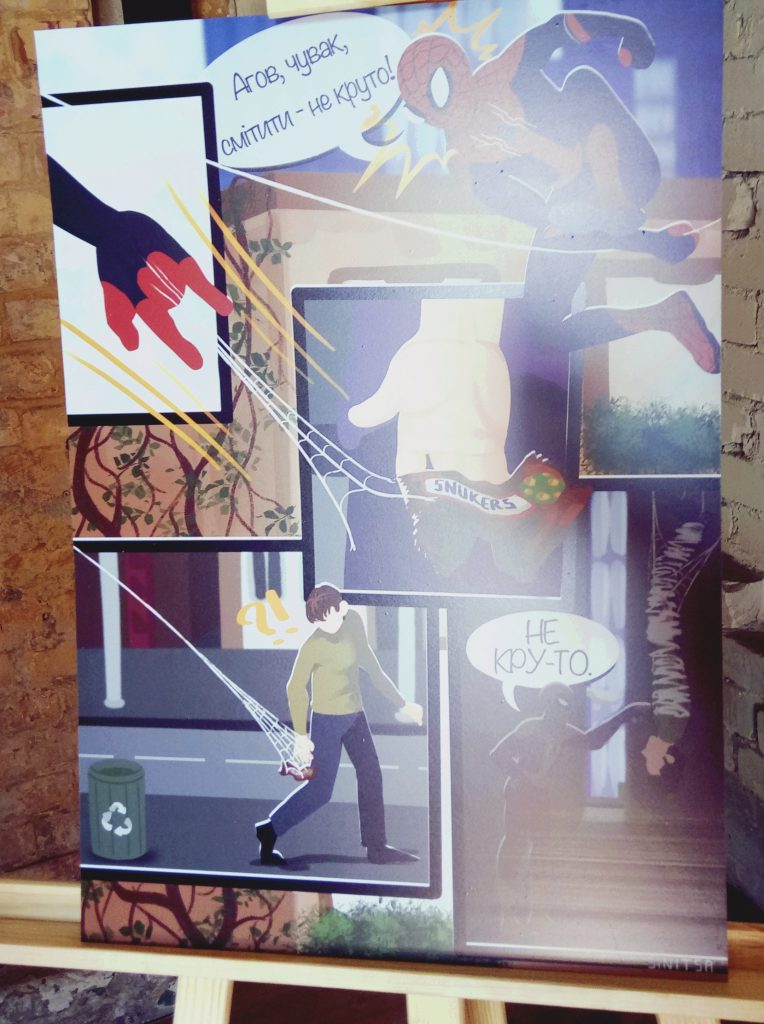 Almost an SBTLocCon of our own!
We also snatched an opportunity to get together with our colleagues from STS UA and do an improvised SBTLocCon. This one needs to become an official event in its own right sometime in the future, that's for sure. In general, we had a great time together, discussing sore issues of game localization, complaining about lack of time to complete our projects at last, lamenting the latest refusals by developers, as well as sharing our progress and supporting each other in all kinds of projects and undertakings. Sure enough, it all ended with a traditional exchange of souvenirs and best wishes. The bottom line is that we thoroughly enjoyed whatever entertainment Comic Con Ukraine 2019 had to offer to the point of a pleasant fatigue. Besides, we got all the inspiration we needed to further the Ukrainization of the Universe!
Author: Tetiana Cherednychok
29.09.19
Photos: Tetiana Cherednychok, Olha Khmelnytska, Oleksii Ivanov. And a shout-out to all fair people who bothered to take pictures of SBT Localization members 😉
SBT Localization goes to Comic Con Ukraine 2019