Greetings, friends! We are finally poking our head out from beneath all the workload. We're extremely proud of the books and games releasing now with our translation, and we hope you like them as well. So let us quickly do an overview of SBT Localization's work throughout the summer.
OFFICIAL RELEASES AND UPDATES
Tales of the Neon Sea was updated and some errors in the translation were fixed. Now this cyberpunk detective game featuring robots and cats is even more pleasant to play.
Developers rarely go back to their old titles, but it happened in this case: The Testament of Sherlock Holmes, released 12 years ago, received a Ukrainian language patch this July.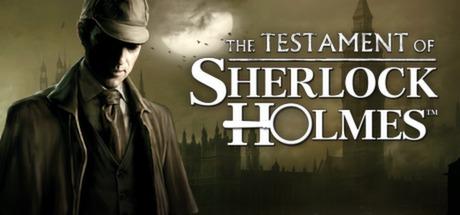 Baldur's Gate 3 received Ukrainian localization at release, on August 3rd. This was an enormously difficult job for us, and we are proud of the work we did. It is worth noting that the translation was released without full editing, so small fixes are still being applied.
If you wish to notify us of a mistake, please provide a screenshot with the mistake's description. You may use the #baldurs-gate-3 channel in our Discord or just contact us through our website by choosing the "Repoer an error in Baldur's Gate 3" topic.
More about this project:
A legendary game with Ukrainian localization
MAL'OPUS released the "The Art and Making of Hogwarts Legacy" art book. In it, you can learn different interesting titbits about the game's development and gaze upon marvellous detailed illustrations.
You can also pre-order the official Fallout cookbook.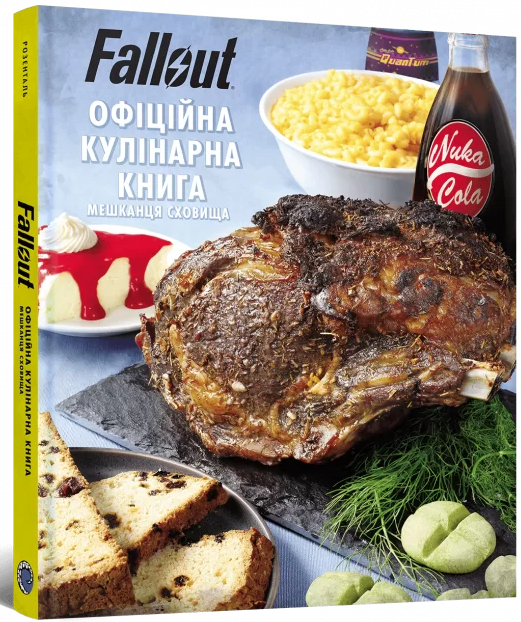 And that's not all our work, some things are releasing at the same time as this report, so let's keep the suspense alive. Just follow our socials and support Ukrainian translators.
EDITS AND TRANSLATIONS
Unfortunately, we have precious little time right now for volunteer projects, although some progress was made after all:
Liftoff: FPV Drone Racing translation is being edited and tested while we're also translating some additional text. The Ukrainian localization is already available in the game.
Kingdom Come: Deliverance is 47% through the editing process. The Ukrainian localization is available in the game.
Into The Breach is 76% through the editing process. We are preparing a mod with the Ukrainian language, but still hope to have the developers add it in an official capacity.
Atom RPG: Trudograd is 82% translated.
Planescape: Torment is 13% translated.
OTHER ACTIVITIES
In June we translated the Diablo IV trailer subtitles for the game's release. This happened just because we have huge fans of this franchise in our ranks.
Bohdana Vozniuk wrote a review for the God of War lore book – Side by side with gods.
SBT turned 11 in July. Some interesting facts about us are gathered in the article "11 years and 7 million words". We have also conducted a sweepstake gathering funds for "Come Back Alive".
Our members visited Games Gathering 2023 Kyiv in August. How it went and what was different about it, in the article.
NEWCOMERS
Welcome to the new members!
Vladyslav Kravchenko
Mariia Ihnatieva
Natalia Kompaniiets
Valentyna Puryha
We wish them boundless inspiration, interesting projects, sharp translations and decent pay to boot.
HALL OF FAME
On behalf of all our community, utmost thanks to our most active members:
Andrii Hryha
Alina Farafonova
Natalia Kompaniiets
Yura Dragon
Ivan Yankovyi
Yurii Bisyk
Oleksii Ivanov
Tetyana Cherednychok
Dmytro Holovchenko
Sofia Shul
Yevhen Tkach
Anna Chyrva
Bohdana Vozniuk
Iryna Andrieieva
Pavlo Kuliamin
Valentyna Puryha
Olia Khmelnytska
Yanis Verminko
Yevhenia Babchynetska
Taras Korzhyk
Oleksandr Lukianov
Olena Androsiuk
JOIN US!
SBT Localization  always enjoys new talented, enthusiastic people who want to join the Ukrainianization of the universe. Try your hand at the  translator test, then if you succeed, write to us via the contact  form.
If you do not have enough time to to do the localization work yourselves but are willing to help bring the Ukrainian language to games, you can support us in a way you like:
1) become our patron on  Patreon;
2) become our patron on Buy me a coffee;
2) transfer any amount to account 4731 1856 1396 5158 (PrivatBank, recipient Sofia Shul), or Monobank Money Jar. Be sure to include your name and last name in the description field (sometimes banks do not show the sender's information), so we will know whom to thank.
OUR THANKS
We truly thank everyone who supported the  SBT Localization team in June, July, and August on Patreon, Buy me a coffee, and in other ways. We wish you and your families health, success and prosperity!
500 $
10 000 UAH
7 000 UAH

100$
2500 UAH
50 $
1000 UAH

25 $
20 $
15 $
500 UAH

10 $



300/250 UAH
200 UAH/ 5 $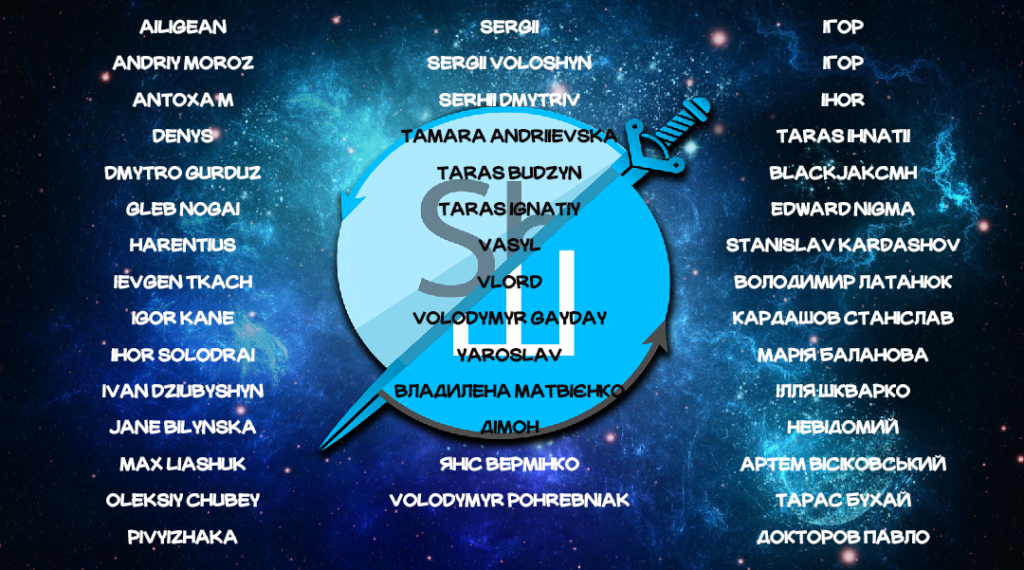 100 UAH

Unknown benefactor, Sviatoslav Tretiak, Dmytro Renkas, Kyrylo Stroiev, Volodymyr Shcherbyna, Dmytro Petriv, Konstiantyn Tykhonov.
2 $ / 50 UAH
MilvusUA, Queez, No_Name, Anastasiya Zhyshchynska, Andrii Rymar, Andrii Serbovets, Andriy Krasnychuk, Bohdan Matviiv, Dinadin Cross, Dmitry Biletskyi, Easy Sugar, Hanni, Ihor Tanchyn, Ivan Budzuliak, Ivan Komradov, ktv, Marko Savchuk, Mary Augstkalns, Oleksandr Lukianov, Oleksandra Makovii, Oleksii Ivanov, Pavlo, Ruslan Vyshnevskiy, Serhii Pashchenko, TaPoK_v_NoSkE, tsunecko, Volodymyr Duday, Yevhenii Shevchuk, Andrii Honcharov, Andrii Khamuliak, Відлуння Епохи, Oleksandr Mamonov, Pavlo Zhuk, Petro Skoryk, Yura Shrubianets, punk_asylum, Ihor Mahera, Alex Kontsevych, Mancubus, vch_m, Tom Alleren, Andrii Malakhov, Alexander, Niko, Nazar Harbuziak, Olexander, Faks, Denys Korolenko.
50 UAH/ 1$ / < 1$

Alexander, amigo1995kot ., Andrii, Artem, boguslav Clairvoyant Anser, Dmytro Kyrychuk, exmolution, Ivan Nikiforyak, Jarlaxle Baenre, Mancubus.UA, Oleksandr, Rini, s0fko, sNb, Vasyl Stokolosa, Vitaliia Kubatska, Volodymyr Zhuk, Wiktor Kor, Anna Havelia, Viacheslav Kreminskyi, Oleksandr Soloviov, Stas Makar, Tymofii Sumka, Yevhen Zabolotnyi, Oleksii R, Bohdan, InsanityUGave2Me, Jobitronik, justscribe, Illia Kolenkovskyi, Yevhen Shevchenko, an unknown benefactor, Yevhen Illiukhin, Nikita Nasinnyk, Oleh Oshkalo.
SPECIAL THANKS FOR SUPPORT TO THE CROWDIN  TEAM!
UKRAINIZATION OF THE UNIVERSE MARCHES ON!
Sofia Shul
Translated by Yurii Bisyk
September 26, 2023
Report for summer 2023 (#80)