From July 22 till July 28, International Translation Conference UTIC took place in the Meteoryt Camp in Dnipro region, which features a venue and format: fresh air, river, forest and translation. A lot of translation. SBT Localization Team could not pass through this event without sharing its experience in video games localization with public. We were preparing for a long time for this conference trying to choose the most interesting and the most actual material that could interest the audience. We will tell you how that turned out.
Day 1: Introduction
22.07. During the first day of the conference all the speakers were coming to the camp. SBT does not look for easy ways and decided to settle in a tent to experience all the delights of life in nature.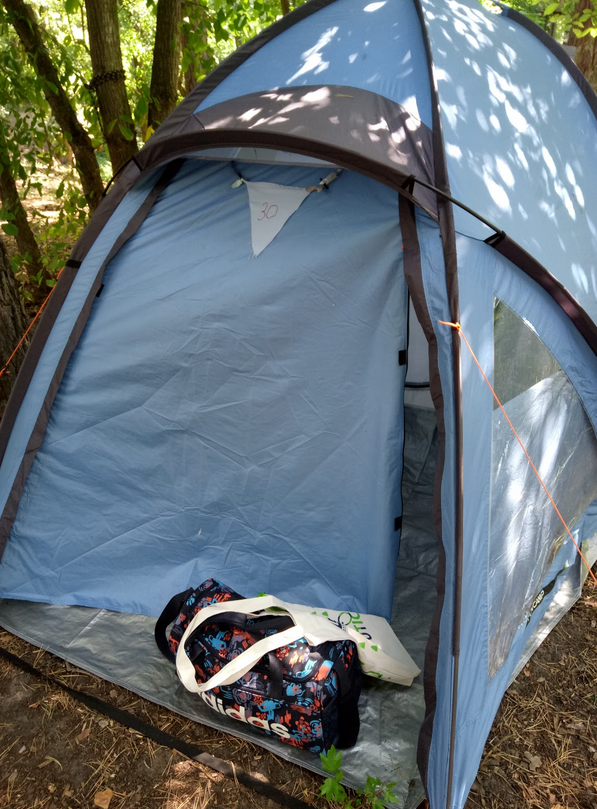 SBT was not the only one to love hardcore. There were the whole tent town organized on the territory of the camp.
Welcome drinks were organized in the evening where one could meet old friends and get acquainted with new and interesting people.
Day 2: UTIC conference opening
23.07. Keynote speakers opened the conference. They were talking about creative challenges of the translator's work and personal brand of a translator.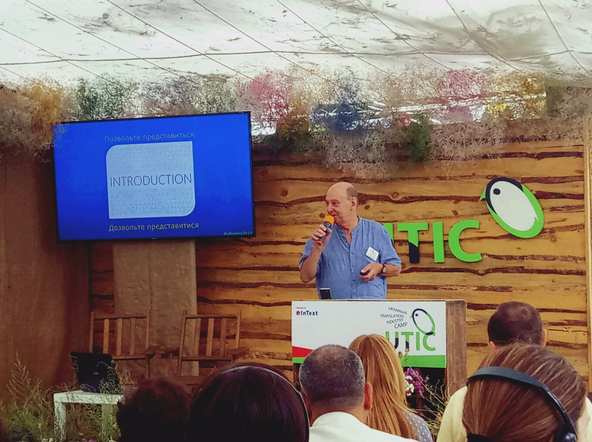 During the exchange of contacts SBT actively talked about the Ukrainian localization of video games and spread information about its activity. And since there were three representatives of SBT, we managed to talk about SBT Localization Team to greater number of people 🙂
In addition to the beautiful nature around, the design of the conference set the atmosphere of rest and relaxation.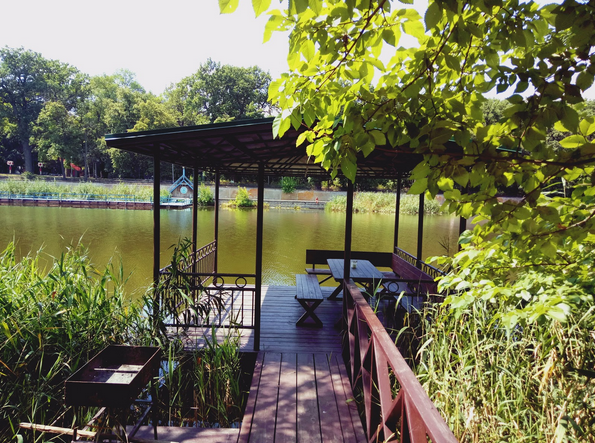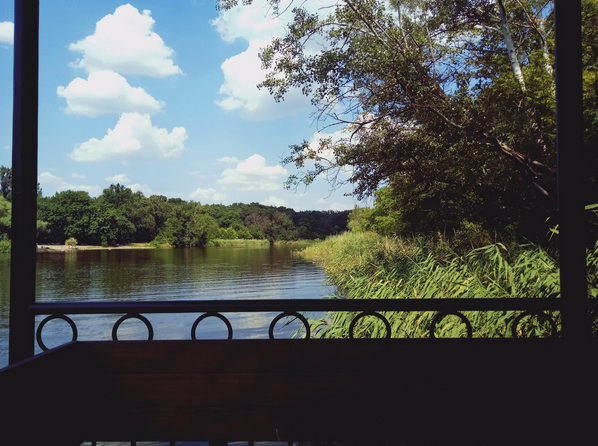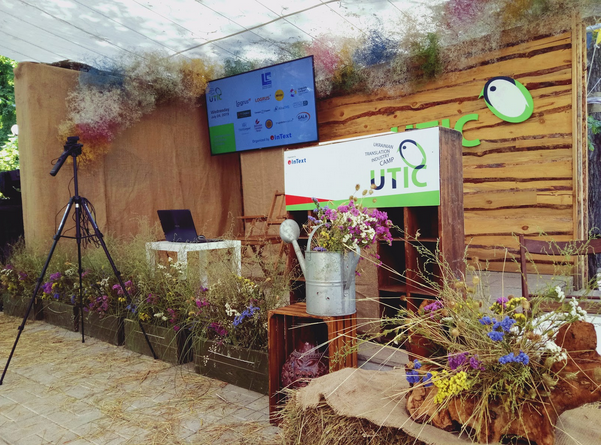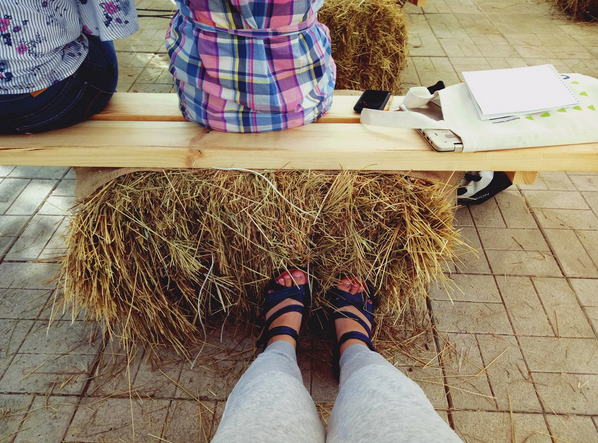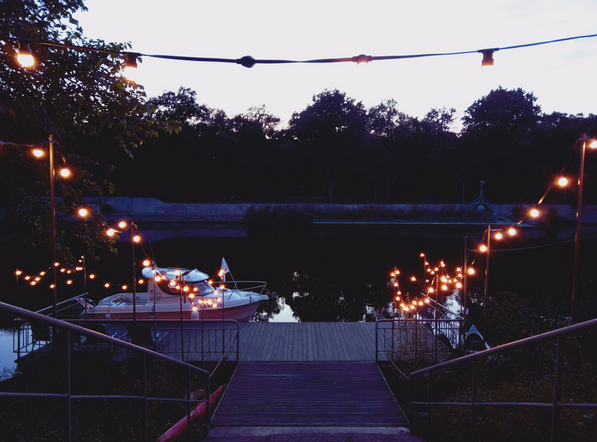 After successful self-advertisement two streams of the speeches started. They were divided into Translation and Interpreting section.
At each of these streams speakers discussed important and interesting topics and audience supplemented the speeches sharing its experience with colleagues staging heated discussions.
After a busy day one could relax near the campfire singing hiking songs.
Day 3: SBT's big break!
24.07. All the SBT Localization Team was looking forward to this day, especially our enthusiasts Andrii Kozhushko, Yevhen Tkach and Tetiana Cherednychok because this was the day of our speech about video games localization!
Our interested listeners 🙂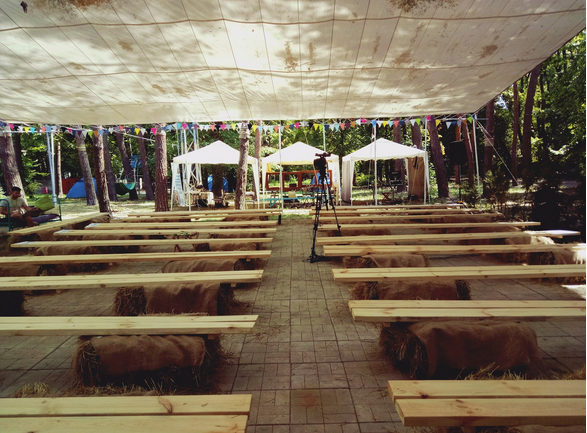 They are coming 🙂
We dedicated our speech to the issues of localization volunteering and discussed the technical aspects of video game localization. We would like to thank Andrii Raboshchuk for providing interesting material for our presentation. We were impressed by the number of listeners, questions and length of the discussion after our speech.
We were asked a lot after our presentation: how do we see text during the localization process; do we see a particular phrase in the context at once; how do we translate without context; what tools do we use; how do we initiate the localization of a particular video game; what file formats do we work with; how do we know what all these "incomprehensible things" in the text mean; what difficulties, besides those presented during the report, do we face during the localization process … We were even asked whether we were the ones who localized The Sinking City 🙂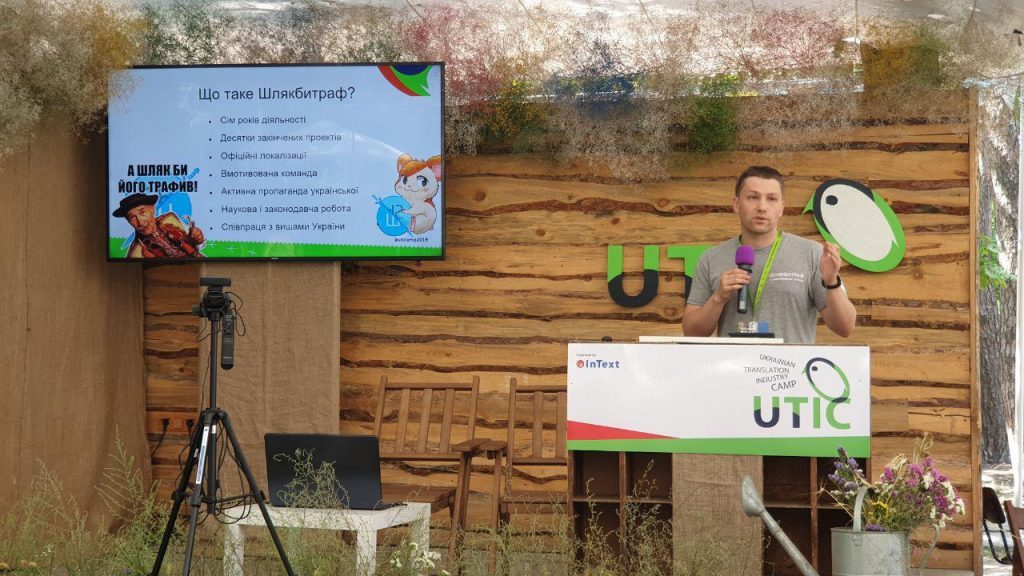 To make a long story short, our report has aroused considerable interest to SBT's activity. Discussion of the report did not end after our speech though. During the whole week we were answering different localization questions. In addition, Mr. Alexander Bondarenko, the organizer of the Summer Translation School, kindly invited us to give a lecture to students about the location of video games for school participants, which will be held next June.
The video of our presentation will be available to the public soon, so watch it on our YouTube channel.
But the greatest delight we got from personal meeting with SBT Localization Team members 🙂
Through the buzz of fighter jets from the nearby military airfield, Andrii actively convinces me that there is no place for sexism in the translation industry and that female translators are better than male translators.
Days 4-6: Translation and Art at UTIC
25-27.07. A lot of interesting things were going on at the conference these days too. Since there were already three streams – Art of Translation, Translation Technologies and Localization and Business of Translation – it was very difficult to choose one as we wanted to listen to all of the speakers. They were talking about everything: from corporate culture in translation companies, rethinking the translation industry, and the brilliant translation of Richard Feynman's memoirs to the depths of machine translation, Chinese translation software, and patent translation.
There were creative workshops organized for the most demanding translational public, who were not satisfied with the speeches itselves.
During the gala concert only live music were played which was perfect ending of the intense week.
Closing word
"I was aiming to visit UTICamp almost half a year before the event began," says Yevhen Tkach. "Everything from the venue to the topic of the presentations was interesting. For me, the conference was a way to change the scenery around and relax with my family. It was also quite interesting to get to know Tetiana, because she, as an editor, suffered the most from my translations; acquaintance with Andrii was also a pleasant surprise. I have to say that everything went about as I expected. In my experience, all the interesting events that happen at conferences is unofficial, UTICamp was no exception. I had to talk 10 minutes from the "stage" and spend five or six hours talking about Ukrainian localization in a more private atmosphere. I managed to communicate with the stars of the Telegram stage, the heads of large translation organizations, excellent book translators, and just indifferent professionals. The entertainment component also did not let up, there were sit-ins of the translation bards in the evenings, except that time did not prevent us from playing pen and paper RPG. Considering that these few days were my first weekend in a few months, I cannot but call them unforgettable!"
We thank UTIC organizers for the great opportunity to share our experience and learn from colleagues.
We also express our deepest gratitude to all of those who support us. Thank you! You inspire us for creating much more of Ukrainian localization 🙂
Ukrainization of the Universe marches on!
Photo: Tetiana Cherednychok, Mykola Klymchuk.
By Tetiana Cherednychok
August 5, 2019
SBT Localization Team at UTICamp!