The other Games Gathering is behind. This time, the conference took place on the 6th and 7th of December in Kyiv. The members of SBT localization team, Oleksii Ivanov, Olia Khmelnytska, and Oleksandr Lukianov, took advantage of the opportunity to both learn more about the news and announcements and discuss Ukrainian localization with the game developers.
What did amuse them was the variety of the Indie-segment of the exhibition, where independent developers present either brand new projects or finished last year's projects. SBT Localization team took the bull by the horns and made some conversations with many teams and even convince of necessity to localize the current project into Ukrainian.
'Among the most alluring facts, I can highlight a bewildering array of indie games and the absence of questions regarding what SBT Localization is and gladly communicated with us. That all means we have exchanged our contacts,' says Olia. 'The hugest splash was made by Stalker 2 booth. Spooky heads of bloodsuckers and snorks combined with friendly fire, create a unique ambience.'
Oleksandr continues.
Games Gathering 2019
Games Gathering… it was pretty fast this year. It seemed I had plenty of time to try out this and that when suddenly it was hight time we went home. I have missed many things. Giving it a second thought, I realized that in the past years, it took only one day to check out all interesting things, whereas this year the conference has crossed the rubicon. It has grown so much that now you have to dedicate at least two days to get a vivid impression.
Let me dig deeper into what I have tried out.
Indie-zone
I do consider indie-zone the most fascinating part of such conferences. A face-to-face conversation with developers while testing their games, analyzing them, adding suggestions what can be removed or changed and how exactly, is a special kind of intellectual tennis that pushes both the player and the developer to improvement. Taking an opportunity of the author's will, I would like to draw your attention to three games, which imprinted on my memory:
1. Through the Nightmares
Number one for me is a hardcore platformer about a Sandman, who is traveling through child's nightmares to dispel them and give a restful sleep. It was the third time I saw this game, each time I had a gap year, and I do gladly monitor the development of the project. The critical point to highlight this year is the improvement of the gameplay: it became perfect.
The next step, in my humble opinion, is to expand – to add new worlds (at this point, only one out of three is ready) and one or two new mechanics in addition to the existing ones, namely reducing of the protagonist in size and installing 'time-platforms' (saving points, which could be added everywhere and where you can stand).
2. Neanderthallica
Another platformer is Neanderthal, humorous, yet speechless (because all the characters use pictograms). That's why I liked it. Each of the available levels is a riddle, where you first need to grasp the task itself to find the next level. The potential of the project is huge so I hope that one day we will see it on the shelves of the store.
3. Zenzyburi. Vanishing antipoint.
It is a two-dimensional point&click quest, where the protagonist has woken up "somewhere not there" and now has to return home through factories, fields with rainbow flowers, and other quirky places. On his way, he will encounter flying volatile Cockroach, prickly plants, unfortunate coincidences, and who knows what else.
The project charmed with a unique visual style (at least I have not encountered something like that previously), pleasant music, and versatile gameplay.
I have tried out some amazing games, among which Atom RPG – its developers presented the sequel and portable version of the first part. Unfortunately, I have not seen each and every game. What is even worse, it seems that I have missed the most compelling games while tended to stay away from long queues. I stayed away as an expert – I don't even know the title of the game-winner of Indie Blast, the stand of which I have not even seen.
VR-zone
Virtual reality is another of Games Gathering 2019 from which I successfully stayed away. There were plenty of things to be amazed by this year, or instance the opportunity to take part in a virtual team quest and even become a winner! Furthermore, you can fully feel the virtual reality with Full Body VR, which resembles an exoskeleton and ensures the interaction with the game barely with hands but with the whole body.
Lectures
The localization theme finally came to the fore at Games Gathering while Localize Direct became one of the sponsors of the event, whereas its Business Development Director Michael Souto delivered a lecture on the basics of successful localization, namely how to choose your preferred languages, how to prepare materials, how to give the right task, how to take into account cultural features, and other guidelines that may seem obvious to us, worldly-wise members of localization fronts, yet not to developers. Besides, it was pleasant to hear about the increase in demand for the Ukrainian language in games.
Others
There was a stand dedicated to S.T.A.L.K.E.R 2 at GG2019! Do not get ahead of ourselves since functionally, it was an extremely cool photo zone with cosplayers and various stock like artifacts, weapons, heads of bloodsucker and snork, and a bunch of gas masks. There was no news announced and nothing from the upcoming game showed. Here are my photos from there: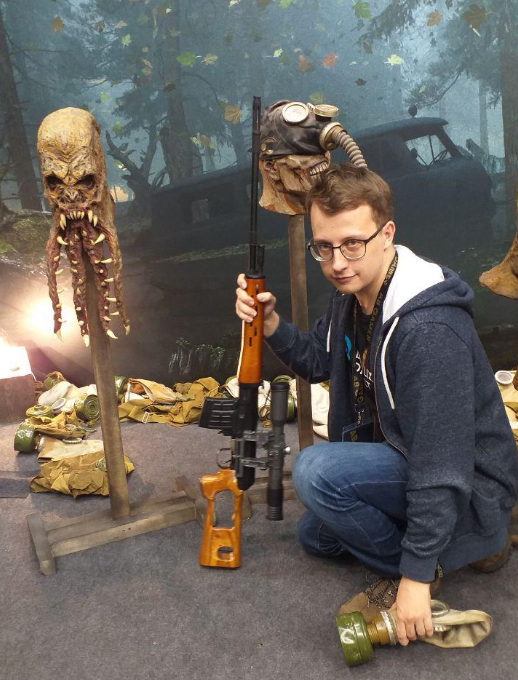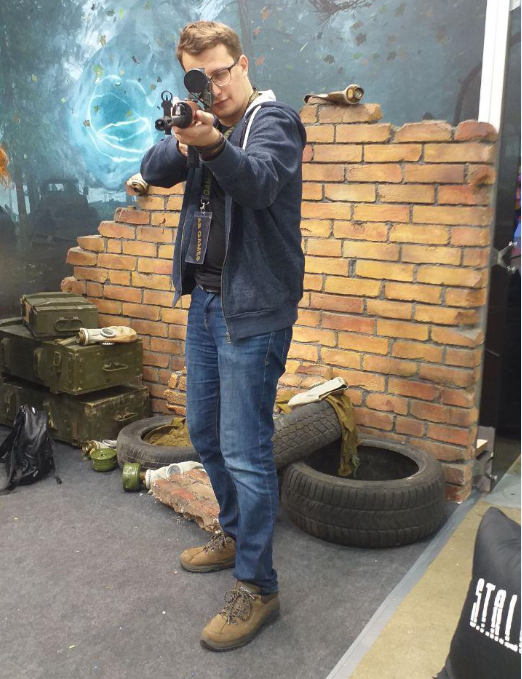 There was a possibility to visit stands of a few mobile game developers and participate in contests. Despite I am not in favour of mobile games, I shall admit the contests were superb!
Organisation
The organization this year exceeded all expectations, including its own. Titanic labour was carried out and many preparations were made. I am not quite aware how far I shall dig into the behind-the-curtains details, so I will underline only one point: the only drawback I have encountered was the lack of time to delve into all that amazing stuff.
I would like to express our sincere thanks to the entire Games Gathering team for organizing this wonderful event at such a high level. Let's keep the faith and do not settle down!
UkrLocCon
Accidentally, we had a mini UkrLocCon. We met Andrii Raboshchuk from Ukrainian Steam Translation Server (STS UA).
Briefly
On the one hand, each Games Gatheringis exactly as it was two years ago: some of the same sponsors, all the same conference flagships, namely Ubisoft and Murka, even volunteers are the same. On the other hand, this stability is unambiguous evidence that the Ukrainian game industry lives and continuously develops since an event center has been formed and the rest of the participants are joining regularly. It is always nice to see reliable guys and girls from the volunteer team and know in advance that no problems in the organization field will be encountered.

Oleksii Ivanov
Of course, Ukrainians are far beyond the scope of their foreign counterparts, but every year more attention to such events by traditional media gives us hope for the best.
Moreover, Games gathering 2019 Kyiv is a landmark B2B event that is also recognized by foreign guests. What concerns us, we will continue burning the midnight oil for SBT Localization to become one of the 'traditional' quests.
See you in a year!
Special thanks to all those, who took photos of us!
Dec 12, 2019
Games Gathering 2019 Kyiv