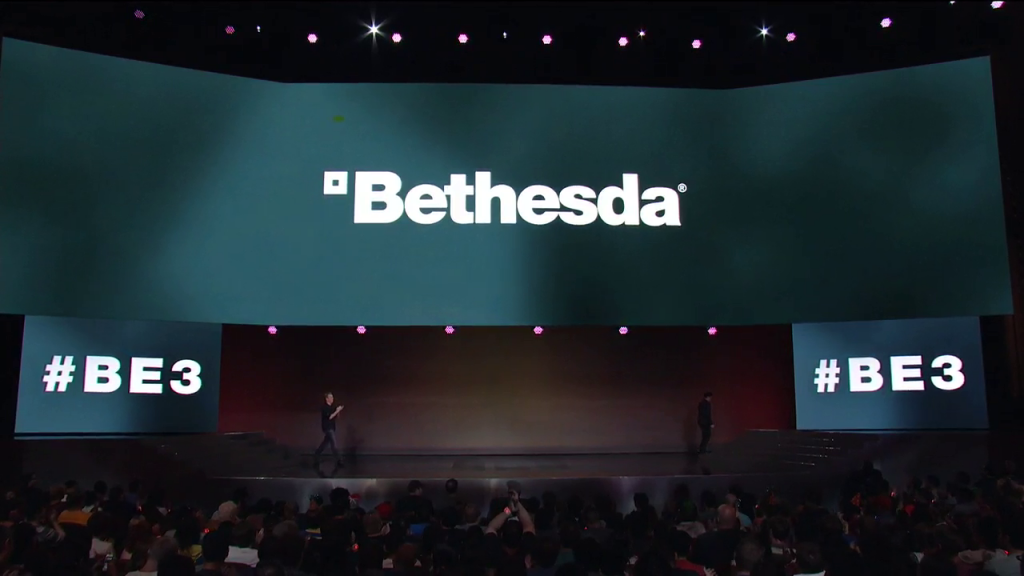 Well, E3 is over, and Verminko should end the overview of this exhibition. To be exact, the missed day when Bethesda showed their products. Why was it missed and will only be overviewed now? There are several reasons for this. The first is that this day brought the most controversial products, everyone was talking about them. The second is that yet another article is made by Verminko based on the actions and decisions of Bethesda. But first thing's first, right?
The first showing was the continuation of crazy Rage. Yes, everyone knew about it due to the leaks, but we got to see gameplay footage at E3. New weapons, larger, somewhat juicier world, and lots of other madness. Everything in the spirit of the series. Fans of Borderlands should like it. Well, and those who fancy shooters without too much narrative.
Next to be shown was another Hearthstone clone from Bethesda, The Elder Scrolls: Legends. They promise a card game with a story. Well, and it's going to be multiplatform. As always. Everything has it these days. Doesn't look too appealing, but it's not for me to judge, really. As practice shows, card games have a fairly large audience. Even if Verminko does not attribute himself to it, it should still not be overlooked.
They also showed a new trailer for the expansion to the online version of Elder Scrolls. This time, players will be able to visit the kingdom of high elves – Summerset. New locations, new quests. A new turn in the history of the universe. With each expansion the game adds new features that make Vrmnq glance at the subscription price again and again. It's not the same TES Online now. And you know, in contrast to many other MMOs, it got better with time.
The continuation of DOOM, dubbed Eternal, was rather unexpected to see. Even more violence, even more brutality, even more cruelty. And even more atmospheric music. You thought Doom Guy is locked up in a room with demons? No-o-o-o-o. It's exactly the opposite.
Quake Champions also received a lot of attention and love at the conference. It got an official release, as well as news that the basic version (which will give you access to one hero) is going to be free. Will it help resurrect the hopeless project of restarting the legendary game? According to Verminko – no. If this is correct, only time will tell. And we'll wait.
We also got to see the developers who did not stop working on Prey. They shared that the game got a long-awaited New Game+ mode (hello, The Witcher), a story mode and a new survival mode. In addition, they presented that there would be a hunter mode where one player tries to find four others who assume the roles of mimics. Remembering how annoying these mimics were in the game, and adding real players in those roles, the mode promises to be interesting. Finally, a DLC called Mooncrash, filled with randomly generated levels, where each playthrough is unique. And you know what? All this is going to be FREE! Cool, right?
While all other companies are tolerant and afraid to offend someone's feelings, removing violence, swastikas and other "destructive things" (hello, EA and Ubisoft), the guys from Bethesda do not bother at all and are making another Wolfenstein. It will take place between the events of the first and second games. A prequel to the sequel, if you will. Coop is the new cool feature this time. And Verminko just recently wondered what was lacking in this simulator of turning Nazis into mince. Everything is easier than it seemed.
In addition to updating or continuing classic titles, the company also presented a new one. It's called Starfield. This, in fact, is the first original franchise from Bethesda since acquiring the rights to Fallout.
If we already mentioned Fallout, one can not help but talk about the Fallout 76 trailer, which was shown at the conference. It is really an online game and the whole world will have a minimum of NPCs so that the entire gameplay loop is based on interaction between players. And you know what's weird? The fact that in 2008 everyone dreamed about it. And now in 2018 the Internet is full of curses and shit-slinging. These people… Dark and incomprehensible. One can never please them.
And finally, main revelation of the conference, and of E3, was the announcement of the next Elder Scrolls. The Elder Scrolls VI. It finally happened. No more ports and violence over the breathless body of Skyrim. At last, we will get a cool new RPG. Maybe. Because there is absolutely no information about it. Where will it take place, what the features will be, even release date, nothing. And judging by the announcement, Bethesda were clearly inspired by Hrihorovich, showing us a thirty seconds teaser with only the mountains and The Elder Scrolls VI caption. It is possible that for the next ten years this will be the main material of speculation around this game.
Verminko from SBT signing off. Thank you for your time.
By Yanis Verminko
June 18, 2018
E3 2018: THE EXPOSITION OF GAMES. PART 4. BETHESDA